Coating Could Simplify Waterproofing Tasks
Engineering360 News Desk | September 13, 2016
A transparent waterproofing spray has what its developers at Australian National University say is the ability to protect almost any surface, including cardboard, wood, stone, plastic, metal, and glass.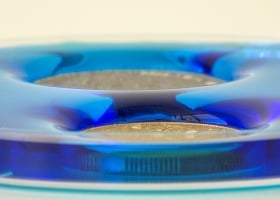 A dual-polymer water-proofing material, shown with coins, is touted for greater robustness and versatility. While many superhydrophobic coatings exist, lead ANU researcher Antonio Tricoli says the new water-repellent coating differs because of a particularly robust character. "Most superhydrophobic coatings today are susceptible to wear damage, by virtue of the breakage of its nano-microstructures," Tricoli says. The ANU team devised a technique that retains the nano-microstructures, even after extensive wear, in part because it combines two polymers, a tough plastic and a flexible plastic.
The coating has many potential uses, the researchers say, from waterproofing mobile phones, to preventing ice from forming on aircraft wings, and protecting boat hulls from corrosion. The material is resistant to ultraviolet radiation, and its composition can be varied to provide properties such as corrosion resistance, self-cleaning, or oil repelling.