LED-Based Device Predicts Radiation Skin Damage
S. Himmelstein | April 04, 2017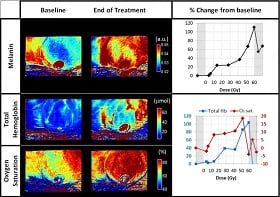 SFDI images of melanin, total hemoglobin and oxygen saturation of a treated breast. Image credit: Anaïs Leproux, Beckman Laser Institute and Medical Clinic
An imaging device that can help gauge the severity and type of skin damage caused by radiation therapy administered to breast cancer patients is being investigated. Currently there is no method available to predict the severity of the late effects of breast cancer radiation treatment, which can include skin irritation, peeling, blistering and discoloration.
A device developed by Modulated Imaging (Irvine, CA) projects visible and near-infrared light at low power onto the breast to characterize skin toxicity of tissue exposed to radiation. Researchers from the Beckman Laser Institute and Medical Clinic and the Department of Radiation Oncology at the University of California, Irvine, are testing eight different wavelengths of visible and near-infrared light from LEDs, measuring how much of each is absorbed by the skin. This provides them with quantitative values indicative of skin health.

To generate these values accurately, the light from the LEDs is modulated spatially, imparting distinct patterns with a digital micro-mirror device within the instrument. This Spatial Frequency Domain Imaging (SFDI) technique is used to obtain the content of melanin and tissue hemoglobin from which total blood volume and oxygen saturation in the tissue are calculated.
In response to concerns that the imaging exposes skin to additional radiation, the researchers determined that 10 measurements with the SFDI system equates to two seconds of sun exposure.