Researchers Use Oxygen-filled Microbubbles to Weaken Tumors' Resistance to Radiation
Siobhan Treacy | January 30, 2018
Researchers are always trying to find a cure for cancer or, at the very least, develop more effective ways of eradicating cancer in the body. The most recent discovery was developed by researchers from Thomas Jefferson University and Jefferson's Sidney Kimmel Cancer Center. The research team discovered that injecting breast cancer cells in the body with microbubbles that are filled with oxygen forces the tumors to become more sensitive to radiation therapy. In studies, this technique improved survival rates significantly when tested on animals.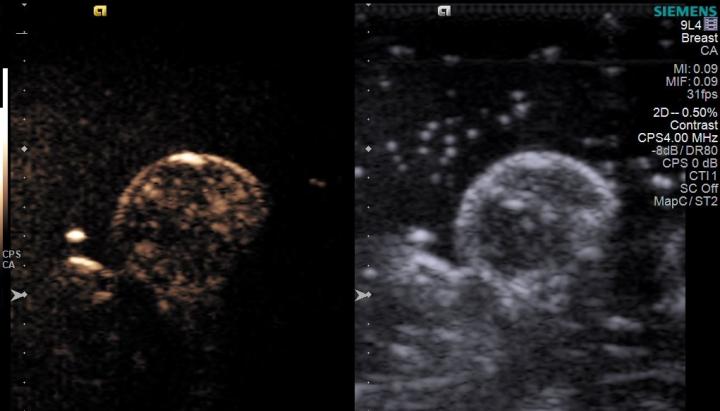 This is an image of a round breast tumor with oxygen microbubbles spread throughout the tumor (gold dots or clouds) in an animal model of the disease. (Source: John Eisenbrey lab, Thomas Jefferson University)
"Finding a way to reverse oxygen deficiency in tumors has been a goal in radiation therapy for over 50 years," said senior author John Eisenbrey, PhD, Assistant Professor of Radiology at Thomas Jefferson University and investigator at Jefferson's Sidney Kimmel Cancer Center. "We've demonstrated here that oxygen microbubbles flush tumors with the gas, and make radiation therapy significantly more effective in animal models."
The first microbubbles were developed for ultrasound imaging in pregnant women. Researchers found that they were able to pop oxygen-filled microbubbles in tumors by using ultrasound beams. This discovery peaked researchers' interest to use the technique in breast cancer treatments. Oxygen-deficiency is commonly found in solid tumors. Tumors tend to outgrow the supply of oxygen-carrying blood vessels that are part of the tumor. Oxygen-deficiency means that tumors can develop a resistance to chemoradiation. By filling the tumors with oxygen, it makes the tumors weaker to radiation.
Before starting radiation therapy in mice, the research team popped oxygen microbubbles using an ultrasound beam. This was proven to triple cancer's sensitivity to radiation, which led to a doubled survival rate in mice.
Because oxygen levels are often low in tumors, it means that radiation therapy is less likely to work. This is because radiation therapy creates oxygen in tumors out of oxygen that is already present. So when oxygen levels are low, radiation therapy levels are low and the radiation doesn't work as well. With the new method, the microbubbles delivered through injection into the bloodstream and then travel to the tumor. This increases oxygen in the tumor, therefore the radiation was more effective.
"The very act of bursting these microbubbles within the tumor tissue seems to change the local physiology of the tumor and make cells generally more permeable to oxygen and potentially to chemotherapy as well," said Eisenbrey. "We think this is a promising approach to test in patients to amplify the effects of radiation therapy."
The researchers are testing a similar approach in human clinical trials. They are using an FDA-approved microbubble contrast agent to test the microbubbles in liver cancer patients along with the treatment they are already undergoing. The researchers hope to test their oxygen microbubbles in clinical trials with breast cancer patients as soon as they get FDA approval.
The paper on this research was published in the International Journal of Radiation Oncology Biology Physics.