Handheld Scanner Reveals Subcutaneous Secrets of Disease
Engineering360 News Desk | June 07, 2017
A new scanner was used to study psoriasis, a problematic skin condition, by providing information on the structure of a patient's skin and blood vessels. The research team also believes it could be used to assess other diseases, such as skin cancer or diabetes.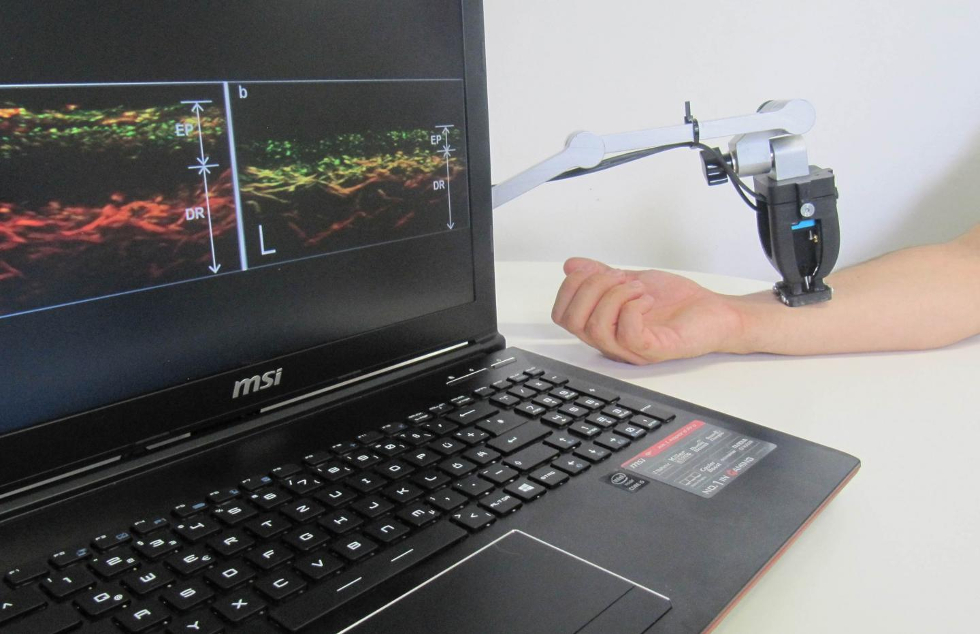 (Source: Helmholtz Zentrum München)Developed by a team of researchers from Helmholtz Zentrum München and the Technical University of Munich (TUM), the scanner uses raster-scan optoacoustic mesoscopy (RSOM), which utilizes a weak laser pulse to excite the tissue of interest, causing heating and expansion of the tissue and generating ultrasound waves. The scanner takes the ultrasound signals, reconstructing them into an image of what lies under the skin.
RSOM is particularly beneficial -- not only because it does not require biopsy, radiation exposure, or even use of a contrasting agent -- but because the researchers were able to reduce the size to that of a handheld device.
Dr. Juan Aguirre, a group leader at the Institute of Biological and Medical Imaging at Helmholtz Zentrum München, explains that a physician's usual visual assessment of the skin misses "all parameters that lie below the surface of the skin, and may be subjective." He continues to say that "knowing the structure of the skin and vessels before treatment can provide the physician with useful information."
According to Professor Vasilis Ntziachristos, director of the IBMI at the Helmholtz Zentrum München and chair of Biological Imaging at TUM, the technology is allowing them "to acquire the first new insights into the disease mechanisms," while facilitating treatment decisions for physicians.
In the case of psoriasis, an inflammatory disease that results in patches of severely scaling skin, RSOM helped them determine several characteristics of psoriasis and inflammation, "including skin thickness, capillary density, number of vessels and total blood volume in the skin." These parameters were able to help them develop a clinical index with which to rate the severity of the disease.
The organization Psoriasis Speaks indicates that ordinarily, psoriasis is diagnosed with a straightforward examination of the skin, scalp and nails, analyzed in relation to medical history. However, with no cure for psoriasis, researchers believe this method of subcutaneous scanning will lead to more accurate diagnoses and treatments for sufferers.