3-D Bioprinted Human Cartilage Cells Can Be Implanted
Engineering360 News Desk | March 24, 2017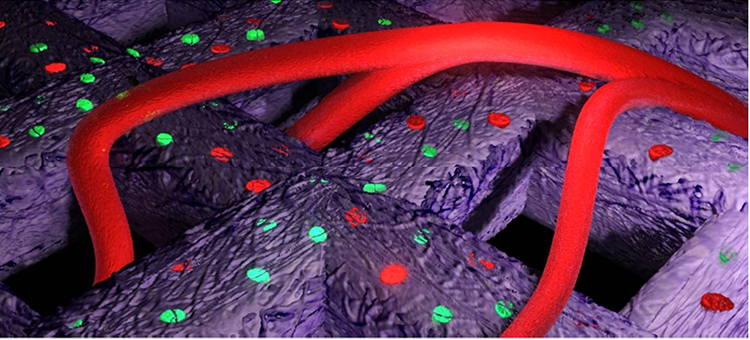 The illustration shows the formation of blood vessels, i.e., vascularization, in the bioprinted material implanted in an animal model. Image credit: Philip KrantzSwedish researchers at Chalmers University of Technology and Sahlgrenska Academy have successfully induced human cartilage cells to live and grow in an animal model, using 3-D bioprinting. The results will move development closer to a potential future in which it will be possible to help patients by giving them new body parts through 3-D bioprinting.
The results were recently presented in the journal Plastic and Reconstructive Surgery Global Open.
The researchers printed a hydrogel of nanocellulose mixed with human-derived cartilage cells — a so-called construct. They used a 3-D bioprinter manufactured by Cellink, a Gothenburg-based startup firm whose bio-ink is a result of research by Paul Gatenholm. Immediately after printing, the construct was implanted in mice.
The researchers can report three positive results of the animal study:
1. Human cartilage tissue has grown in an animal model.
2. Vascularization, i.e., the formation of blood vessels, between the materials.
3. Strong stimulation of proliferation and neocartilage formation by human stem cells.
After 60 days, researchers see something that begins to resemble cartilage. It is white, and the human cartilage cells are alive and producing what they are supposed to. They have also been able to stimulate the cartilage cells by adding stem cells, which clearly promoted further cell division.
According to researchers, there is now proof that the 3-D printed hydrogel with cells can be implanted. It grows in mice and, in addition, blood vessels have formed in it
Researchers are careful to point out that the results do not involve any shortcut to bioprinted organs.
The research has taken a step forward toward someday possibly being able to bioprint cells that become body parts for patients.