Bioprinting Functional Body Parts
Engineering360 News Desk | February 17, 2016
A 3D bioprinting system has been used to print live cells into human-scale constructs representing bone, muscle and ear tissue. When implanted in laboratory animals, the structures engineered by Wake Forest University researchers matured into functional tissue and developed a system of blood vessels.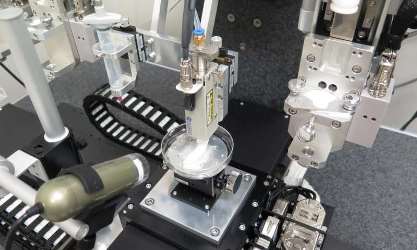 Bioprinting system builds a jaw bone fragment. Image source: Wake Forest Institute for Regenerative Medicine.Available printers based on jetting, extrusion and laser-induced forward transfer cannot produce structures with sufficient size or strength to implant in the human body. Early results indicate that constructs produced with the Integrated Tissue and Organ Printing (ITOP) system have the right properties for such application. The technology combines a biodegradable, plastic-like material to shape the 3D structure and an optimized water-based gel to host the cells.
Several proof-of-concept experiments demonstrated the capabilities of ITOP. Two months after human-sized external ears were printed and implanted under the skin of mice, the shape of the implanted ear was well-maintained and cartilage tissue and blood vessels had formed. Two weeks after printed muscle tissue was implanted in rats, tests confirmed that the muscle was robust enough to maintain its structural characteristics, become vascularized and induce nerve formation.
Jaw bone fragments the size and shape needed for facial reconstruction in humans were also printed using human stem cells (see video). To examine the maturation of bioprinted bone in the body, printed segments of skull bone were implanted in rats. After five months, the bioprinted structures had formed vascularized bone tissue.