Watch: 3D printing customizes cartilage for skin cancer repair
S. Himmelstein | May 27, 2021
The synthesis of custom-shaped cartilage for use in surgical procedures advances the ability of surgeons to safely restore features of skin cancer patients experiencing nasal cartilage defects after surgery. The technology developed at the University of Alberta, Canada, combines a hydrogel with cells harvested from a patient for use in 3D printing a specific shape captured through 3D imaging. The material is then cultured in the laboratory to become functional cartilage.
The method provides a new solution for a clinical problem facing many patients with skin cancer. The nose is a common site for this disease and removal of cancerous lesions frequently results in cartilage defects.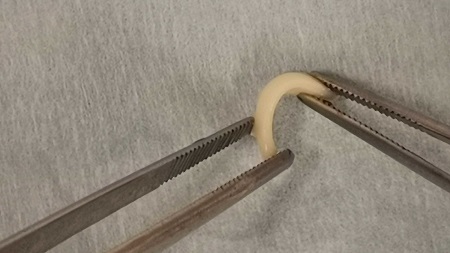 The cartilage is 3D-printed into a curved shape suitable for use in surgery to rebuild a nose. Source: University of AlbertaRib cartilage is commonly implanted in the nose during facial restoration procedures, often with little aesthetic improvement and exposing the patient to risks associated with invasive surgery.
This new approach avoids these limitations by simply harvesting a small amount of cartilage from the nose to extract chondrocytes, which are then mixed with the collagen hydrogel and 3D printed into a custom shape tailored to fill the cartilage defects of that patient. The process demonstrates the viability of the Freeform Reversible Embedding of Suspended Hydrogels (FRESH) technique pioneered at Carnegie Mellon University.
The researchers plan to test the implants in animal models prior to initiating clinical trials within the next three years.
The research is published in The FASEB (Federation of American Societies for Experimental Biology) Journal.