The unlikely pairing of a retired research chemist and a sailboat captain may lead to a new market for plastic waste. The duo is developing a mobile reactor for the conversion of such waste to diesel fuel.
In pursuit of "practical solutions to plastic pollution," James E. Holm founded Clean Oceans International, a nonprofit organization. His partner, Swaminathan Ramesh, Ph.D, formed EcoFuel Technologies to develop and commercialize technologies that generate fuel from plastic waste.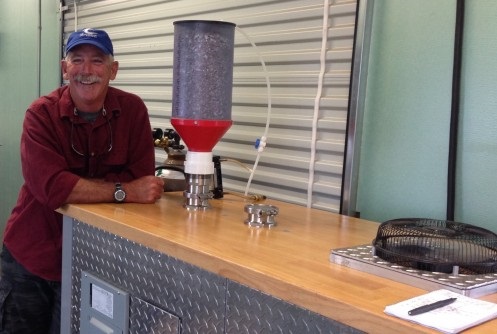 James Holm (pictured) and Swaminathan Ramesh, Ph.D., teamed up to develop a mobile reactor (also pictured) to convert waste plastic into fuel. Source: Claudia Rocha
Together they are advancing a mobile pyrolysis system that does not require costly refining steps to make the fuel useable. The system uses a metallocene catalyst deposited on a porous support material that, coupled with a controlled pyrolysis reaction, yields diesel fuels directly.
This approach enables pyrolysis as a continuous-feed process and results in a smaller system footprint. Processing capacity can be as small as 200 pounds per 10 hours to 10,000 pounds or more per 10-hour day. The pyrolysis reactor can also be brought to where the plastic wastes are, as the whole system can fit in a 20-foot shipping container, or on the back of a flat-bed truck.
A demonstration project for the government of the city of Santa Cruz, CA, is planned to show the technology works well and that it can create a useable drop-in diesel fuel. Government officials there are interested in applying the technology to waste plastics that currently cannot be recycled, and for producing diesel fuel for municipal vehicles.
This research will be presented at the 253rd National Meeting & Exposition of the American Chemical Society in San Francisco, CA, held April 2-5, 2017.