A breakthrough in catalysis research conducted by an international team of researchers could advance the development of clean diesel engine technology and help combat air pollution.
Catalysts are typically metallic nanoparticles — often platinum group metals — that are finely deposited upon a substrate. The activity and durability of the catalyst critically depend upon the interaction of the particles with the substrate.
In studying metal nanoparticles prepared by exsolution at the surface of perovskite oxides, the researchers have shown these structures to enable new dimensions in catalysis, energy conversion and storage technologies due to their socketed, well-anchored structure. They also observed that exsolved particles do not re-dissolve back into the underlying perovskite upon oxidation, as commonly believed. Instead, they may remain pinned to their initial locations, and can then undergo further chemical transformations to alter their composition, structure and functionality while preserving their initial spatial arrangement. This is referred to as 'chemistry at a point.'
The utility of structures prepared via this concept has been shown in relation to exhaust clean-up from diesel emissions, oxidizing carbon monoxide and nitric oxide simultaneously over hundreds of hours of operation. The approach represents progress in the design of earth-abundant metal catalysts rivaling platinum for reactions of key practical importance, on a weight basis, and also at temperatures relevant to exhaust emissions.
The study involved scientists from University Malaysia, Newcastle University and University of St. Andrews.
The findings are published in the journal Nature Communications.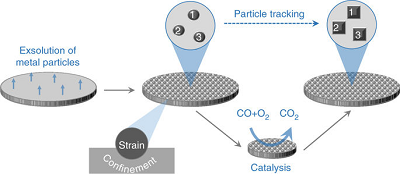 Schematic of particle tracking experiments. Initially, metal particles are exsolved on one side of a dense pellet made from a perovskite composition of choice. Representative areas of this pellet are tagged through geometrical distances to the pellet edge and by proximity to surface features such as pores or terraces. The desired catalytic test is then conducted; the sample is removed from the reactor and again loaded in the electron microscope. The tagged areas are located and examined to identify the evolution of the particles at individual and collective levels. Source: Nature Communications