A 3-D Bioprinter Prints Human Skin
Engineering360 News Desk | February 06, 2017
A prototype 3-D bioprinter that can create totally functional human skin has been developed by scientists from the Universidad Carlos III de Madrid, CIEMAT (Center for Energy, Environmental and Technological Research), Hospital General Universitario Gregorio Marañón, and the BioDan Group,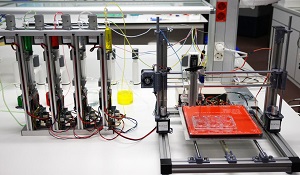 The prototype 3-D bioprinter creates totally functional human skin. Credit: Universidad Carlos III de MadridBioinks are deposited in a computer-controlled process which layers the biological components on a print bed in an orderly protocol to produce the skin (see video).
The final product replicates the natural structure of human skin: the epidermis with its stratum corneum, which acts as protection against the external environment, together with another thicker, deeper layer, the dermis. This last layer consists of fibroblasts that produce collagen, the protein that gives elasticity and mechanical strength to skin.
Allogeneic skin can be produced from cell stocks on a large scale for industrial processes. A patient's own cells can also be used to create autologous skin for therapeutic use, such as in the treatment of severe burns.
If approved by regulatory agencies, the 3-D printed skin might be used to test pharmaceutical or consumer chemical products, as well as for medical transplants.