Engineers at Parker Hannifin Corp. say they have found a greener way to provide compressed air for plant floor assembly lines and machine tools.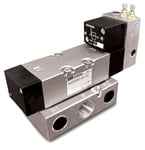 The company's Air Saver Unit reportedly cuts air and energy consumption by up to 50%. The company says it also offers a more effective way to remove dust, dirt and debris from machined and painted parts. The unit pulses the air instead of remaining in an always-on state. The turbulence from the pulsing air cleans better, so there's less processing and greater throughput, the company says.
The unit is essentially a pneumatic valve that couples Parker's Air Pilot technology with spool modifications, enabling it to control the dwell and frequency of the output. The technology was first developed at the request of a Japanese automaker that wanted to reduce air flow noise on a paint line. Engineers discovered that the pulsing air removed dust and debris from car bodies, while using about half as much power.
The technology is being evaluated by the Northwest Energy Efficiency Alliance as a means of reducing power consumption in factories that use compressed air. Parker Hannifin expects the product to see us on automated paint lines and in conjunction with machine tools, for swarf removal.