Modeling Tools Help Optimize Bus Routes
Engineering360 News Desk | January 25, 2017
The debut of wireless charging buses in Stockholm, Sweden – the first in Scandinavia –included introduction of a model to propose optimal locations for installing chargers on the city's bus network.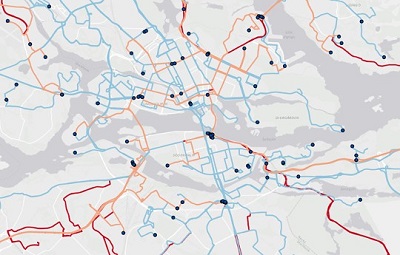 A map of bus lines in Stockholm showing where electrical lines with wireless charging would be possible. The red lines represent biodiesel, blue lines represent electrical / conductive charging and orange lines electric / inductive charging. Credit: IIASA
The model, developed by a KTH Royal Institute of Technology researcher in cooperation with the International Institute for Applied System Analysis (IIASA) indicates that installation of 150 chargers to electrify 94 bus routes could halve fleet carbon dioxide emissions while lowering energy consumption by 34%.
The fuel cost savings would balance out projected costs of investments in infrastructure such as chargers and connection to the grid. While this forecast is based on optimized energy usage, the model also offers users the option of cost optimization. In Stockholm's case, a cost-optimized scenario would mean fewer electrified bus lines, but lower energy consumption nevertheless – albeit with a slightly-less-extensive estimate of 40% reduction in emissions.
The model can be applied to any city as a basis for decision making. All that's needed is a detailed map of the bus network and a reliable bus schedule.