Carbon Capture on a Commercial Scale
Engineering360 News Desk | January 16, 2017
The largest post-combustion carbon capture system installed to-date on an existing coal-fueled power plant is now on-line near Houston, TX.
The Petra Nova facility was completed on-budget and on-schedule in a joint venture by NRG Energy, Inc. and JX Nippon Oil & Gas Exploration Corporation.
Petra Nova uses the KM-CDR Process®, jointly developed by Mitsubishi Heavy Industries, Ltd. and the Kansai Electric Power Co., Inc. The system employs a proprietary KS-1 high-performance solvent for CO2 absorption and desorption.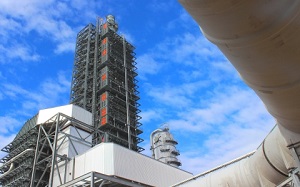 Sixteen-foot diameter ductwork takes flue gas from the coal plant to the carbon capture facility. Credit: Business Wire The carbon capture facility was constructed under a fixed-price contract by a consortium of Mitsubishi Heavy Industries Americas, Inc. and TIC (The Industrial Company).
After initial testing in September 2016, Petra Nova has delivered more than 100,000 tons of captured CO2 to the West Ranch oil field through an 80-mile pipeline.
The facility captures more than 90% of CO2 from a 240 MW equivalent slipstream of flue gas off an existing coal-fueled electrical generating unit at the WA Parish power plant in Fort Bend County, southwest of Houston. At this level of operation, Petra Nova can capture more than 5,000 tons of CO2 per day, which is the equivalent of taking more than 350,000 cars off the road.
Hilcorp Energy Company -- the operator of the oil field -- and the University Of Texas Bureau Of Economic Geology will monitor CO2 movement deep in the oil reservoir. Oil production at the field is currently estimated to increase from approximately 300 barrels per day before beginning Enhanced Oil Recovery (EOR) operations to production of up to 15,000 barrels per day using captured CO2.