Researchers at the University of Illinois at Chicago demonstrated a graphene-based, non-invasive diagnostic for early brain cancer detection. Graphene interfaced onto brain cells can distinguish a single hyperactive cancerous cell from a normal cell.
Graphene is composed of a single layer of carbon atoms linked in a hexagonal chicken-wire pattern, and all the atoms share a cloud of electrons moving freely about the surface.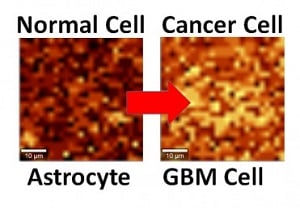 Normal and cancerous brain cells interfaced with graphene show different activity levels under Raman imaging. Credit: UIC/Vikas BerryThe charge distribution in graphene is modified when interfaced with a cancerous cell, which changes the energy of atomic vibration as detected by Raman spectroscopy. A cancer cell's hyperactivity leads to a higher negative charge on its surface and the release of more protons. The change in vibration energy can be found by Raman mapping with a resolution of 300 nanometers, allowing characterization of the activity of a single cell.
The technique is now being studied in a mouse model of cancer with promising results, and trials with patient biopsies are planned for a later date.