Asteroid Wipes Out Dinosaurs But Delivers Cancer Destroyer
S. Himmelstein | November 03, 2017
The asteroid thought to have wiped out the dinosaurs 66 million years ago may have also delivered a cancer-killing metal to Earth. Iridium is rare on our planet but abundant in meteoroids, and can be manipulated to kill cancer without harming healthy cells.
Researchers from University of Warwick, UK, and Sun Yat-Sen University in China developed a compound of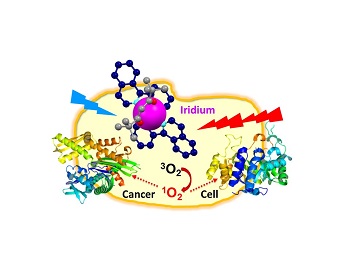 This diagram depicts iridium attacking a cancer cell by inducing singlet oxygen production. (Source: University of Warwick)iridium and organic material which can target cancerous cells. The interaction transfers energy to the cells and converts the oxygen inside them into singlet oxygen, which is poisonous and kills the cell. Shining visible laser light through the skin onto the cancerous area activates the light-reactive coating of the compound, triggering the metal to start filling the cancer with singlet oxygen.
After application of the iridium compound and red laser light to a lab-grown model tumor of lung cancer cells, the researchers observed that the activated compound penetrated into every layer of the tumor, effectively killing it. The method is safe to healthy cells, as the treatment had no effect on non-cancerous tissue.
State-of-the-art ultra-high resolution mass spectrometry was used to gain an unprecedented view of individual proteins within the cancer cells – allowing identification of precisely which proteins are attacked by the organic-iridium compound. The proteins for heat shock stress and glucose metabolism were determined to be impacted.
The use of laser light to target cancer, or photochemotherapy, is emerging as a viable, effective and non-invasive treatment. Patients are becoming increasingly resistant to traditional therapies, so it is vital to establish new pathways like this for fighting the disease.