According to a Duke University study, climate warming goals set by the Paris Agreement will not be attained without a tenfold jump in rate of clean energy technology adoption. Technology diffusion must occur at "unprecedented speeds" to limit global warming to the 2 C target.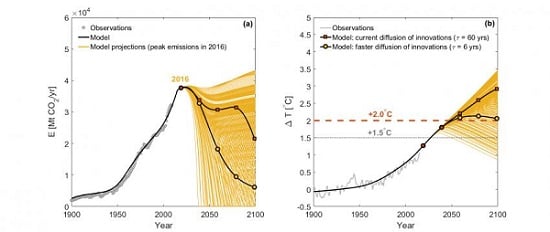 Projections of future emissions and the speed of innovation needed to meet global emissions targets. Credit: Gabriele ManoliThe researchers conclude that per-capita carbon dioxide emissions have increased about 100% percent every 60 years -- typically in big jumps -- since the Second Industrial Revolution. This "punctuated growth" has occurred largely because of time lags in the spread of emission-curbing technological advances, which are compounded by the effects of rapid population growth.
The analysis used delayed differential equations to calculate the pace at which global per-capita CO2 emissions increased since the end of the 19th century and start of the 20th. The researchers then compared this pace to the speed of new innovations in low-carbon-emitting technologies.
Using these historical trends coupled with projections of future global population growth, the likely pace of future emissions increases was estimated and the speed at which climate-friendly technological innovation and implementation must occur to achieve the Paris Agreement's goals was determined.