U.S. Army to Begin Testing Armored Multipurpose Vehicle
John Simpson | December 14, 2016
BAE Systems is set to hand over the first armored multipurpose vehicle (AMPV) to the U.S. Army for testing. The AMPV is intended as the replacement for the Army's Vietnam-era M113 family of armored personnel carriers, which comprise 30% of the Armored Brigade Combat Team's (ABCT) tracked-vehicle fleet.
The Army says that at least 29 vehicles will be manufactured during a 52-month engineering and manufacturing development phase. If the "low-rate production option" for the AMPV is approved, several hundred of the vehicles will be manufactured for testing over the next four years.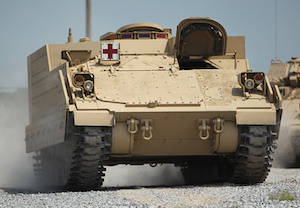 The vehicle weighs 75,000-80,000 lbs. and can sustain speeds of 34-38 mph. Image credit: U.S. Army.According to the Army, the AMPV addresses the M113's shortcomings in survivability and force protection; boasts improvements in size, weight, power and cooling; and is designed to accommodate the Army's inbound network and future technologies. The vehicle weighs 75,000-80,000 lbs., can sustain speeds of 34-38 mph, accelerates from 0 mph to 30 mph in 24 seconds and has a cruising range (at 30 mph) of 225 miles.
BAE Systems says the AMPV is based substantially on the platform of the Bradley Fighting Vehicle, which it will operate alongside in support of the ABCT's operations. Like the Bradley, the AMPV has a welded aluminum hull designed to keep vehicle weight down and allow for maximum mobility. According to Major General David Bassett, 60%-70% of the vehicle's parts are shared with existing ground combat vehicles, yielding compatibility efficiencies.
The Army will test five variations of the AMPV: the General Purpose—which accommodates two crew and six passengers—as well as the Mortar Carrier, Mission Command, Medical Evacuation and Medical Treatment variants.