Prototype Combat Vehicle is Designed to Deliver Troops and Lethal Force to the Front
Eric Olson | October 10, 2018
American and German defense companies, Raytheon and Rheinmetall Defence, respectively, are teaming up to develop a replacement for the U.S. Army's aging Bradley Fighting Vehicle, which first entered production in 1981.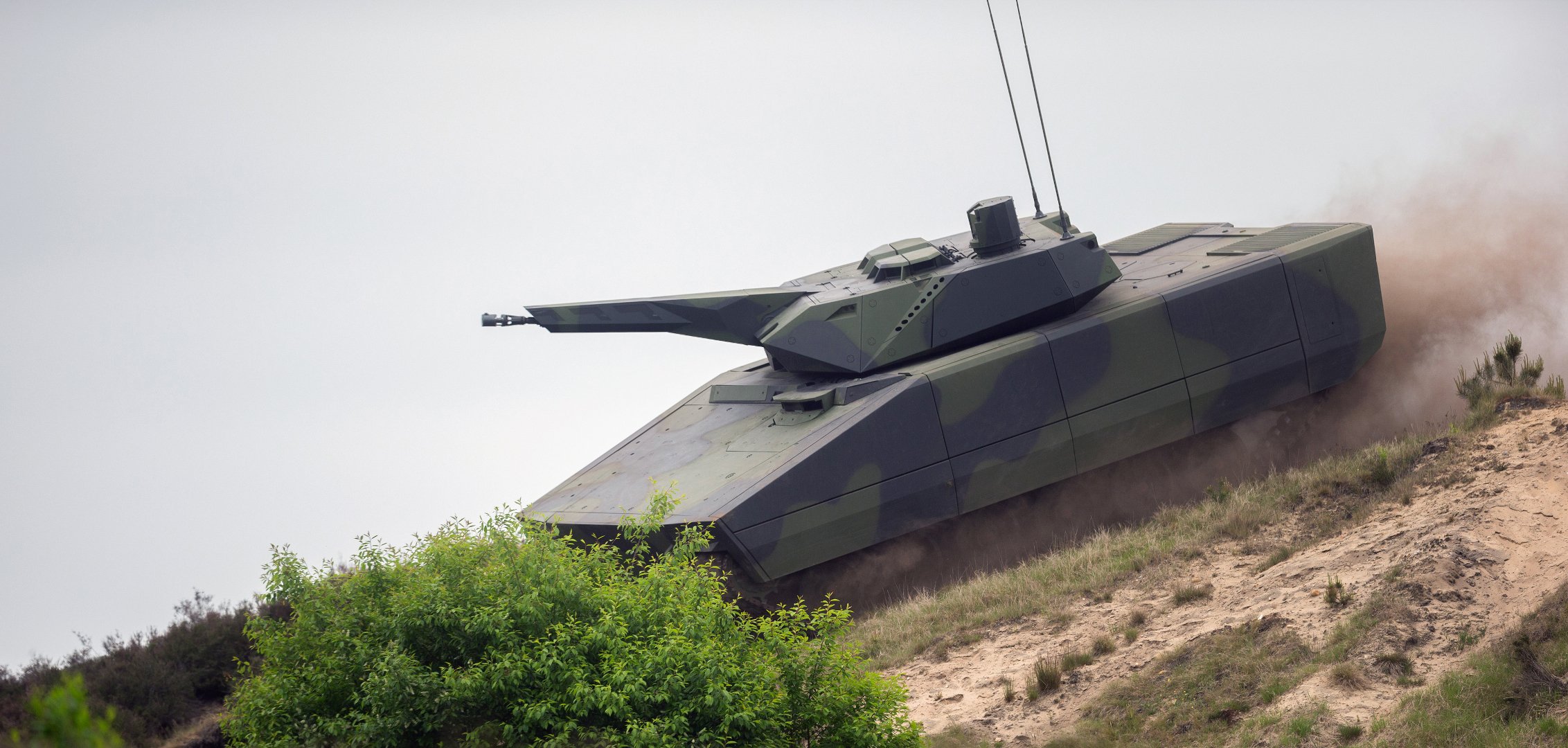 The Lynx Infantry Fighting Vehicle is designed to remain agile in rough terrain and dense urban environments. Source: Rheinmetall Defence
The team is advancing the Lynx Infantry Fighting Vehicle as its entry into the Army's procurement competition for an Optionally Manned Fighting Vehicle (OMFV) to replace the Bradley. The contest is part of the Army's push to modernize its fleet of land vehicles under the Next Generation Combat Vehicle (NGCV) program. NGCV is the Army's second highest priority on its list of six initiatives aimed at maintaining overmatch capabilities against peer adversaries, just behind the Long-Range Precision Fires project.
Enhanced Capabilities
Derived from Rheinmetall's family of Lynx combat vehicles first unveiled at a European defense exhibition in June 2016, the new Lynx will be enhanced with a number of Raytheon technologies. The vehicle is designed to meet or exceed all Army requirements for the OMFV, including troop transport capacity, mobility in dense urban terrain, protection on current and future battlefields, upgradeability with future technologies and delivery of decisive lethality with a variety of weapons.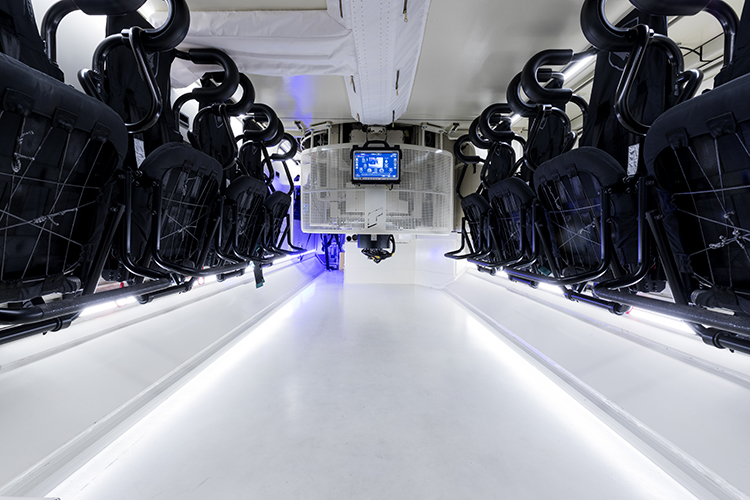 A view inside Rheinmetall's Lynx KF41 Infantry Fighting Vehicle. Source: Rheinmetall Defence
Expanding on the Bradley's capability to carry six soldiers in the back, the Lynx has room for up to nine seats to transport a full Army squad. Occupants are guarded from ballistic and mine threats by armor that delivers up to the highest level of STANAG protection.
The Lynx was built to be a highly reconfigurable platform with a modular design. An open architecture for its mechanical, electrical and electronic systems enables not only multiple configurations to handle various mission types, but also the potential to easily accommodate future technology upgrades.
The Lynx can be configured for a variety of roles beyond its default infantry fighting vehicle form, including armored reconnaissance, command and control, repair and recovery, and ambulance. Depending on the configuration, the Lynx has a total weight ranging from 55 tons all the way down to 37 tons.
Powering the vehicle is a 1,140 hp Leibherr engine with a transmission system by Renk.
Weapons and Sensors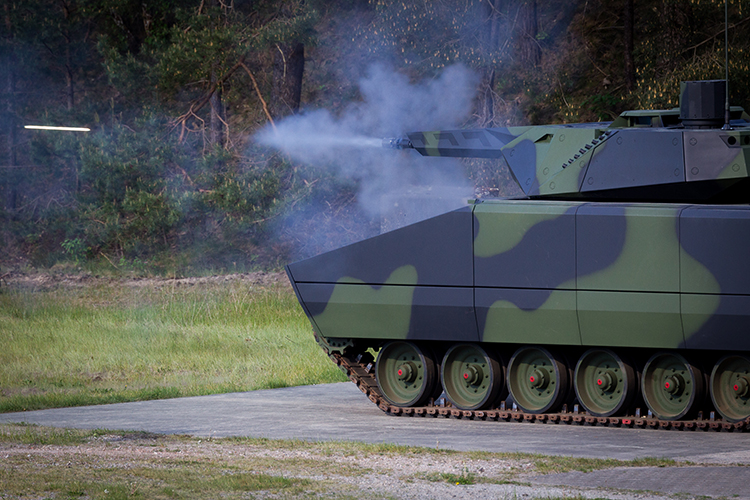 A 30 mm tracer round is fired by Rheinmetall's Lynx KF41 on a test range in Germany. Source: Rheinmetall Defence
The Lynx's LANCE 2.0 turret comes standard with a 35 mm automatic cannon but is capable of handling up to a 50 mm cannon. Two pods on either side of the turret can accommodate a number of subsystems, such as target acquisition and missile launch systems.
Raytheon will contribute a number of these advanced sensor and weapon technologies, in addition to providing systems integration expertise. The company will provide a multimodal sensor that detects hostile fire and determines where it originated, communicating the information to nearby friendly assets.
The Lynx will be protected by Raytheon's 360-degree, all-weather Active Protection System (APS) that detects, tracks and shoots down incoming threats like rocket-propelled grenades and anti-tank missiles. Third-generation thermal sights with improved range and resolution will provide enhanced target acquisition and battlefield awareness.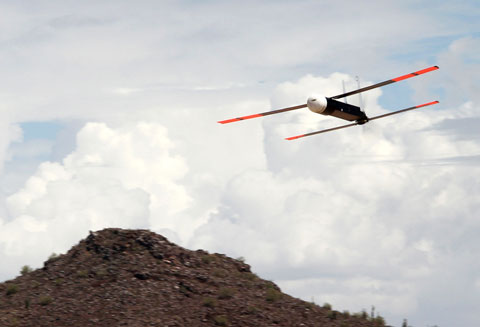 The Lynx will be able to launch Coyote drones to scout and attack targets. Source: Raytheon
The Lynx will also be equipped with a TOW guided missile system for which Raytheon is developing an upgraded propulsion system with greater speed and range to defeat armored vehicles at extended distances.
Additionally, the Lynx will be able to deploy Raytheon's Coyote unmanned aircraft system to collect information and engage targets. The company has demonstrated Coyotes operating both individually and in a swarm. When combined with a Ku band radio frequency system (KRFS) radar, Coyotes can identify and destroy enemy drones.
Competitors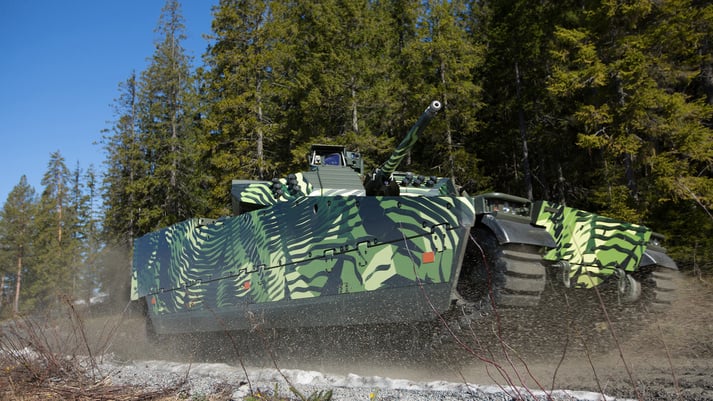 BAE Systems' CV90 MkIV. Source: BAE Systems
Raytheon and Rheinmetall are not the only companies hoping to secure the lucrative NGCV contract for the Army's OMFV. Other firms working on a Bradley replacement include BAE Systems and General Dynamics. BAE Systems, manufacturer of the Bradley, is advancing the latest MkIV version of its CV90 family of combat vehicles, the earliest variant of which entered service in Sweden in 1993. General Dynamics is pushing the Griffin III, which is based on the chassis of the Ajax armored vehicle, which the company sells to the British Army. (The Ajax is itself a derivative of the ASCOD armored fighting vehicle, which entered service with the Spanish and Austrian armies in 2002.)
The Army's official request for proposals for the OMFV is expected to be issued in late 2018. Six months later, the service will select two finalists to build 14 prototypes for an evaluation phase that will end with the crowning of a single successor to the Bradley Fighting Vehicle. The Army hopes to field the winning design beginning in 2026.