Unmanned, Automated Utility Ship to Be Built in 2017
John Simpson | November 25, 2016
Automated Ships Ltd., of the UK, and Kongsberg Maritime, of Norway, have signed a memorandum of understanding to build an unmanned and fully automated vessel for offshore operations.
Design and construction of the Hrönn will begin in January 2017. It is expected to be built by Fjellstrand AS, a Norwegian shipyard, and enter service in 2018. Sea trials will take place in Norway's newly designated automated vessel test bed in the Trondheim fjord and be conducted under the auspices of DNV GL and the Norwegian Maritime Authority.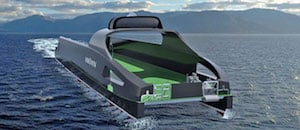 Artist's impression of the Hrönn. Image credit: Kongsberg Maritime.Hrönn will be a light-duty, offshore utility ship servicing the offshore energy, scientific/hydrographic and offshore fish farming industries. Its intended uses will include surveying, remotely operated vehicle and autonomous underwater vehicle launch and recovery, light intermodal cargo delivery and open-water fish farm support. The ship will also be capable of being utilized as a standby vehicle to provide firefighting support to an offshore platform working in cooperation with manned vessels.
Kongsberg Maritime says the ship will initially function primarily as a remotely piloted vessel, in man-in-the-loop control mode, but will transition to fully automated and ultimately autonomous operations sometime after the control algorithms have been developed during the remote piloting phase.
"The advantages of unmanned ships are manifold but primarily center on the safeguarding of life and reduction in the cost of production and operations," says Brett Phaneuf, managing director of Automated Ships Ltd. "Removing people from the hazardous environment of at-sea operations and re-employing them onshore to monitor and operate robotic vessels remotely, along with the significantly decreased cost in constructing ships, will revolutionize the marine industry."
Automated Ships Ltd. will be the primary integrator, project manager and owner of the Hrönn. Kongsberg's role will be to deliver all major marine equipment necessary for the ship's design, construction and operation, including systems for dynamic positioning and navigation, satellite and position reference, marine automation and communication.
All vessel control systems—including K-Pos dynamic positioning, K-Chief automation and K-Bridge ECDIS—will be replicated at an onshore control center, allowing for full remote operations of the ship.