Video: Building the First Autonomous, Zero Emissions Container Ship
S. Himmelstein | May 10, 2017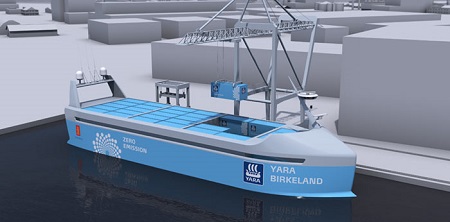 Autonomous and 100 percent electric, 'YARA Birkeland' will be the world's most advanced container feeder ship. Image credit: Kongsberg Maritime
The first zero emissions, fully electric and autonomous container ship is under development, with operation slated for the last half of 2018. Global fertilizer company Yara (Oslo, Norway) and technology group Kongsberg Maritime (Kongsberg, Norway) are partnering to build the container feeder ship.
The YARA Birkeland, named after Yara founder Kristian Birkeland, will reduce nitrogen oxides and carbon dioxide emissions and improve road safety by removing up to 40,000 diesel-powered truck journeys annually in populated urban areas. The ship will initially operate as a manned vessel, moving to remote operation in 2019. Fully autonomous operations are expected in 2020.
Kongsberg is responsible for development and delivery of all key enabling technologies on YARA Birkeland, including the sensors and integration required for remote and autonomous operations, in addition to the electric drive, battery and propulsion control systems.