Next-Gen Hand Grenade Goes High-Tech
John Simpson | October 01, 2016
U.S. Army engineers are working on the first new lethal hand grenade in more than 40 years, which is designed to give greater flexibility to soldiers.
Over the past five years, Armament Research, Development and Engineering Center (ARDEC) engineers at the Army's Picatinny Arsenal, in New Jersey, have been collaborating with Infantry School representatives, hand grenade cadre, as well as active duty soldiers and marines, to determine fighters' needs regarding hand grenades. The Enhanced Tactical Multi-Purpose (ET-MP) hand grenade, the Army's next-generation lethal hand grenade, is being designed to meet performance requirements required for close-combat engagements in which the effects must be lethal.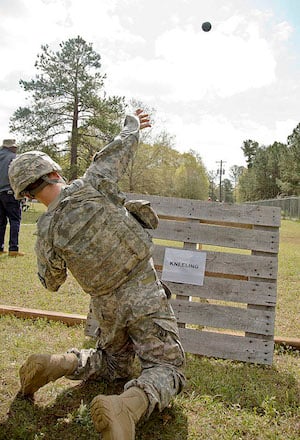 A soldier at Fort Benning throws a prototype inert grenade from the kneeling position. Image credit: Herbert Wortmann.The multi-purpose hand grenade is being designed to provide both fragmentation and blast overpressure more effectively and safely than its predecessors, the Army says. Once fielded, soldiers will be able to select and use a hand grenade with different effects simply by flipping a switch.
According to Jessica Perciballi, ARDEC project officer for ET-MP, Army, Grenades and Demolitions Division, ET-MP represents the first hand grenade that can be tailored to the mission. Soldiers will not need to carry as many types of hand grenades as previously.
"They are currently carrying one M67 grenade that provides lethal fragmentation effects. With the new multi-purpose grenade, they can carry one ET-MP grenade and have the ability to choose either fragmentation or concussive effects desired for the situation," Perciballi says.
Another feature is that the grenades are designed for ambidextrous use, meaning that they can be thrown with either hand. Current grenades require a different arming procedure for left-handed users.
"Not only will ET-MP provide additional capabilities and lethality to the warfighter, it will also be the first Army Fuze Safety Review Board and insensitive munition-qualified lethal grenade in the Army's portfolio," Perciballi says.
"With these upgrades in the ET-MP, not only is the fuze timing completely electronic, but the detonation train is also out-of-line," adds Matthew Hall, grenades tech base development lead. "Detonation time can now be narrowed down into milliseconds and, until armed, the hand grenade will not be able to detonate."