Oil Well Fissures Plugged with Bacteria
John Simpson | September 09, 2016
A team of Montana State University (MSU) researchers has demonstrated the potential for biofilm and mineral-producing bacteria to stop small, hard-to-reach leaks in underground oil and gas wells.
The technology uses a process called microbially induced calcite precipitation. In the presence of calcium and urea—a nitrogen-based substance widely used in fertilizers—Sporosarcina pasteurii bacteria can rapidly create a deposit of calcite, the hard mineral that constitutes limestone and marble.
In a recent experiment, scientists from MSU's Center for Biofilm Engineering used Sporosarcina pasteurii to seal microscopic fissures in an Alabama test well's casing, which consists of 9 5/8" metal piping reinforced by cement. The team, led by Adrienne Phillips, assistant professor in the Department of Civil Engineering, injected solutions containing the bacteria into a section of the test well located approximately 1,020 feet underground. By monitoring the pressure of the well, and by using ultrasonic imaging to observe known fissures in the well casing, they confirmed that the calcite produced by the biofilm had sealed the microscopic cracks.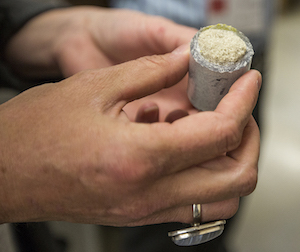 Adrienne Phillips, assistant professor of environmental engineering at MSU, holds a sample of calcium carbonate. Image credit: Adrian Sanchez-Gonzalez.In an industrial setting, leaking well casings can result in the release of hydrocarbons, drilling fluids and other substances into adjacent rock strata and groundwater. Leaked gases, including methane, the main component of natural gas, can migrate to the surface and become airborne. Methane is a powerful greenhouse gas that contributes to climate change, so methods to contain it are increasingly sought after, Phillips says.
Typically, well leaks are repaired using cement. But sealing small fissures is difficult because of cement's high viscosity.
"When we talk to oilfield service providers who do this kind of work, they claim the success rate for this kind of leak is between 1% and 10%," says Lee Spangler, director of MSU's Energy Research Institute. "The MSU team was able to seal this leak in their first attempt. I think that's of huge consequence."
Because fissures can compromise similar wells used to extract hydrocarbons, the field test results suggest widespread industrial application for the technology, the researchers say. For example, the technique could benefit efforts to capture and store carbon dioxide, a process that requires airtight wells for transferring the pressurized gas to underground reservoirs.
The research team is now investigating ways to make the technology more widely applicable. By cultivating similar biofilm-producing bacteria that can withstand the high temperatures found deep underground, the researchers hope to produce a tool for plugging even the most hard-to-reach leaks.