Underground Radar for Post-Katrina Damage
John Simpson | September 08, 2016
Underground radar technology developed at Louisiana Tech University is helping the city of Slidell in south Louisiana to identify and document underground infrastructure damage that had gone undetected in the months and years following Hurricane Katrina.
The technology is a pipe-penetrating scanning system that uses ultra-wide-band (UWB) pulsed radar. UWB allows for the inspection of buried pipelines, tunnels and culverts to detect fractures, quantify corrosion and determine the presence of voids in the surrounding soil often caused by storm water leaks and flooding. Developed at Louisiana Tech's Trenchless Technology Center, the system incorporates simulation, electronics, robotics, signal processing and three-dimensional renderings in a package that can be mounted on existing pipe-inspection robots.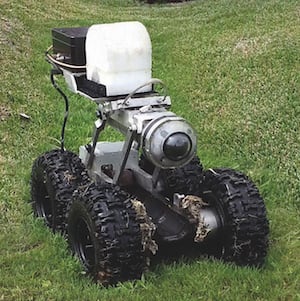 The radar is integrated into a robot that crawls through a pipe and relays the data back to the operator in real time. Image credit: Louisiana Tech University.Dr. Arun Jaganathan, associate professor of civil engineering and construction engineering technology, began developing the technology as the basis for his Ph.D. dissertation research. Partnering with fellow Louisiana Tech researcher Dr. Neven Simicevic and others, his idea was to eventually develop it into a tool that municipal engineers could use for their routine pipeline condition assessment.
The radar system emits ultra-short electromagnetic pulses from inside of a sewer pipe and captures the signals "back scattered" from the pipe to determine the condition of various layers hidden behind the wall that cannot be seen directly using visual tools such as a camera. The radar is integrated into a robot that crawls through a pipe and relays the data back to the operator in real time.
Following testing and development, Jaganathan and other researchers went to Slidell in the summer of 2013 to pinpoint the spots in the city that would be most beneficial for using the UWB to investigate the underground infrastructure issues. As had been predicted by the group in their initial research, compromised infrastructure was able to be seen using the UWB technology and, more importantly, became provable.
As a result of the issues identified by the UWB pulsed radar, the city of Slidell was able to secure $75 million in funding from the Federal Emergency Management Agency to begin the underground utility restoration process.