Hardening the Energy Coast
Scott Baltic | August 17, 2016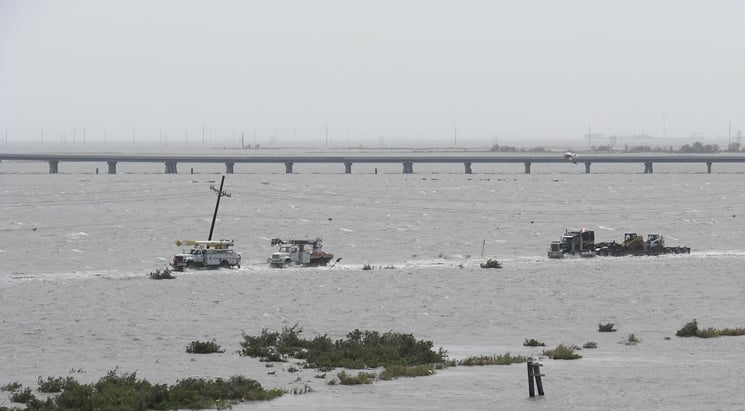 Trucks splash along a flooded LA1 as work progresses on an elevated replacement for the Port Fourchon lifeline.
(Editor's note: This article was first published in late April 2015. Flooding in Louisiana during August 2016 has renewed interest in coastal vulnerability and makes this article timely once again.)
Port Fourchon, La., lies almost as far south as you can go in Louisiana and still be on dry (most of the time) land. Right on the Gulf Coast, it is surrounded by a low-lying landscape of bayous, channels, islands and levees; scenic but vulnerable—and crucial to the U.S. energy supply.
Instead of sleek white liners embarking passengers for Caribbean cruises or brawny container ships stacked high with steel boxes carrying international cargo, what Port Fourchon ("foo-SHON") is about is serving the offshore oil and gas industry. In parallel with steady barge traffic down Bayou Lafourche, hundreds of trucks each day bring cargo to the port. From there, a stream of offshore supply vessels and helicopters carries everything from cement and pipe to fuel and groceries to offshore drilling and gathering facilities.
Port Fourchon alone services 90% of deepwater structures off the Louisiana, Mississippi and Alabama coasts along the Gulf of Mexico. The Louisiana Offshore Oil Port (LOOP), a marine terminal 20 miles offshore from nearby Grand Isle, can unload as many as three supertankers at once and connects to a pipeline network that stretches as far as Minnesota. Together, Port Fourchon and LOOP service more than 18% of the U.S. total supply of crude oil and natural gas.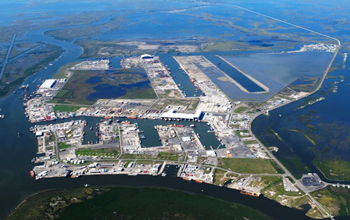 Port Fourchon services 90% of deepwater Gulf of Mexico production with everything from groceries to pipe. Source:gcaptain.com The Department of Homeland Security has estimated that it would cost the U.S. economy $8 billion if Port Fourchon were to be closed for 90 days, says Jeff Williams, senior manager of climate consulting for Entergy, an electric utility serving parts of Texas, Arkansas, Mississippi and Louisiana.
So the trifecta is that Port Fourchon is crucial to America's energy security, it is barely above sea level and it is in a hurricane country. In recent years, the port has been hit three times, by Hurricanes Katrina and Rita in 2005 and Isaac in 2012, says Greater Lafourche Port Commission spokesperson Leigh Guidry.
Critical Assets in a Tough Place
This is where utility company Entergy plays a vital role. It takes energy to extract energy, and Entergy is the sole supplier of electrical power to Port Fourchon, via a 115 kilovolt (kV) transmission line.
And for better or worse, Entergy, too, has ample experience with hurricanes.
The utility sustained "tremendous damage" from Katrina, says Williams, totaling about $1.5 billion. Although this was roughly 1% of the total of losses caused by the storm, it was enough to force Entergy subsidiary, Entergy New Orleans, into bankruptcy reorganization. Entergy's headquarters in New Orleans had to be abandoned after Katrina and moved temporarily to Jackson, Miss.
The utility has a practice of conducting a review after every hurricane, Williams says, but the initial problem after Katrina was a lack of information. So Entergy commissioned a zip-code level study of its service area, and then brought in reinsurer Swiss Re to help make sense of the data.
Applying its models to an area stretching from Brownsville, Texas—on the west to the Florida state line on the east, and from the coastline itself to 70 miles inland—the reinsurer estimated an average annual loss of $14 billion today, rising to $19 billion a year in 2030, assuming no climate change, only land subsidence, ongoing economic growth and wetlands loss. That figure jumps to $21-23 billion in 2030 if the effects of climate change are included.
"This is not a climate change problem," says Williams. "This is a problem that gets worse with climate change." He also cautions that these figures are "very lumpy," given the unpredictable nature of hurricane season and hurricane damage.
Alongside the threat of hurricanes are the long-term issues of climate change, land subsidence and the sea-level rise that results from both and leads to economic loss.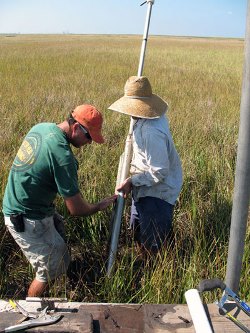 USGS scientists studying subsidence extract a core sample from marshland in southern Louisiana. Image source: USGSA U.S. Geological Survey summary from 2014 titled, "Subsidence and Wetland Loss Related to Fluid Energy Production, Gulf Coast Basin" estimated relative sea-level rise in the Mississippi Delta plain through 2007 at 3.5–6.3 millimeter per year, or roughly in the range of 2 inches each decade. A decrease in the typical subsidence rate after about 1993 was attributed to natural gas and oil extraction having peaked in 1970 and declining thereafter.
As a result of a combination of erosion, subsidence, sea-level rise and salt-water intrusion, Louisiana is losing an average of 30 square miles of coastal wetlands every year, says Steve D. Tullos, manager of Corporate Environmental Initiatives for Entergy, citing U.S. Geological Survey figures.
This is worrisome because natural landscape features provide "multiple lines of defense" against hurricanes, says Williams. The typical progression from open water toward solid ground is offshore barrier islands, saltwater marshes, fresh-water marshes and wooded wetlands, he says. All of these natural features function like speed bumps on a highway, helping to slow and mitigate the effects of storm surge.
Still, Williams says, the energy assets are there "for a reason." That is, energy infrastructure like Port Fourchon, LOOP and all the offshore drilling rigs cannot exactly move out of harm's way. So Entergy has taken on a multifaceted, years-long program of both hardening its own infrastructure and working with its customers to improve their disaster resilience.
Keeping the Lights On
The current phase of Entergy's campaign started in 2007, when the company adopted a new hardening standard for its own facilities based on lessons learned from Katrina.
Regulatory authorities played a role in this effort. Public utility commissions, Williams says, "are generally interested in working with us to ensure cost-effective investments are made to reduce business interruption losses from these extreme weather events."
After Hurricane Ike in 2008, Williams says, the Public Utilities Commission of Texas asked Entergy to commission a study by consultants from Quanta Technology to identify the best practices for hardening transmission and distribution (T&D) structures. In general, transmission lines carry more than 69 kV, and distribution lines carry less than 69 kV. Quanta's recommendations focused on regular inspections of wood poles, setting standards for foundations for distribution poles, wider use of a stronger grade (Grade B) of distribution poles and a program of "unlike-for-like" replacement during routine maintenance; for example, gradually upgrading poles or replacing porcelain insulators with composite insulators.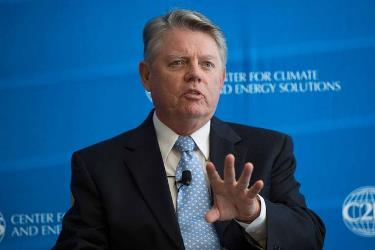 Jeff Williams, senior manager of climate consulting for Entergy. Source: gain.orgThese recommendations were incorporated into Entergy's updated hardening standard in 2009. That standard calls for, among other things, new transmission towers of steel and concrete for increased wind resistance (supplanting previous, mostly wooden structures), the elevation of substation control equipment above 100-year flood lines, stronger wooden distribution poles and better vegetation clearance and management.
These measures are fairly generic, but Entergy also faces challenges from the Gulf Coast's specific geomorphology. "There's no such thing as bedrock down here," says Williams. In some cases transmission structures stand on foundations that are deeper in the marsh than the height of the structures above ground.
In addition, federal interstate highway I-10 is an important evacuation route, so Entergy is making it a priority to upgrade the power lines that cross it.
Overall, Entergy has spent $1.7 billion since 2008 on hardening plants and substations and on building T&D systems for new or expanding customers to the new standard. A further $300 million has been spent over the same period to upgrade about 290 miles of transmission lines and about 28,000 distribution poles.
So far, 28 substations have been hardened by adding levees and/or elevating control equipment and switches, at an average cost of about $1 million each. After Katrina, the U.S. Army Corps of Engineers rebuilt the New Orleans levee system—a $14 billion investment completed in 2012—so substations in New Orleans are actually lower priorities, says Williams.
Before Katrina, Entergy's back-up computers for its headquarters in New Orleans were also in that city, but now backup data centers are located in Jackson, Miss., and Little Rock, Ark. In addition, three distribution service centers in the New Orleans area were elevated by one story or more, and the main transmission operations center was moved from New Orleans to Jackson.
As for Port Fourchon, Entergy's 10-year hardening strategy is well under way. The utility is building a 21-mile, 115 kV transmission line running from Golden Meadows to Leeville. It is designed to 230 kV standards and hardened to handle 150 mph winds, which exceeds National Electrical Safety Code criteria for a Category 5 hurricane. The $66 million project also includes elevating equipment and the control house at the Leeville substation. Further incremental phases of the project are planned, but not yet budgeted.
LA Highway 1
Entergy is not alone in its efforts to make Port Fourchon more resilient.
Sited 2 to 2½ feet above sea level, the two-lane Louisiana Highway 1 (LA 1) is the only roadway supporting Port Fourchon and LOOP. It is also the only evacuation route for Port Fourchon, Grand Isle and other towns in the area. LA 1 is so crucial to the uninterrupted flow of energy from the Gulf that in 2001, Congress added it to the federal list of "High Priority Corridors."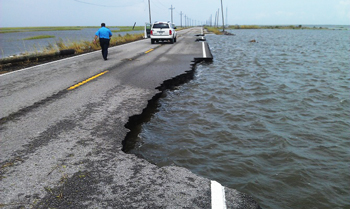 LA1 near Port Fourchon suffered damage during Hurricane Isaac in 2012. Image source: LA1 Coalition.LA 1 had flooded even before Katrina. Efforts to elevate the highway started around 1997, as deepwater oil drilling in the Gulf expanded following the 1995 passage of the Deepwater Royalty Relief Act, says Henri Boulet, executive director of the LA 1 Coalition. The coalition is a public-private 501(c)(4) organization dedicated to improving the highway between Grand Isle and U.S. 90.
According to the coalition, a recent National Oceanic and Atmospheric Administration (NOAA) tidal inundation study estimated that by 2027, LA 1 will be impassable for more than 30 days a year—if a storm does not wash it out completely before then.
Phase 1 of the new LA 1, which runs 19 miles from Leeville to Port Fourchon, is still just two lanes, but—crucially—sits on a superstructure that is elevated 17 feet above sea level.
The elevation of LA 1 is a separate project from Entergy's hardening of its T&D lines, which substantially runs along the same route. But together, the two projects should hasten Port Fourchon's recovery following a hurricane and speed up the resumption of offshore energy production, Boulet says.
Building Resilient Customers
The focus on resilience and faster recovery after a storm is central to what Entergy is doing beyond its own infrastructure.
"How do you think through scenarios involving climate change and then manage those risks?," asks Williams. The real risk that needs to be managed, he says, is the "resilience of our customer base." If customers cannot receive and use power, "What have we achieved?"
Williams cites the example of a polymer plant in Orange, Texas, that was knocked out for four weeks following Hurricane Rita in September 2005 because the wind took down the electrical transmission lines. The same plant was disabled, again for four weeks, by Hurricane Ike in September 2008, not by loss of power, but because water inundated the facility.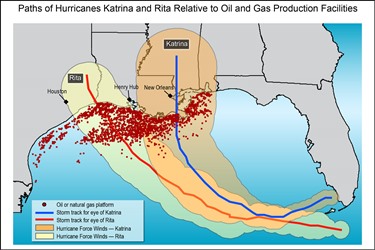 Hurricane Rita disabled a Texas polymer plant in 2005. Port Fourchon, La., lies just east of the path of Hurricane Katrina. Image source: usnews.com
The Swiss Re research, summarized in a November 2010 report titled, "Building a Resilient Energy Gulf Coast," has provided a way for Entergy to talk to its customers and communities and educate them about the risks that are growing as climate change risk collides with ongoing economic development.
In a series of Blue Ribbon Resilient Community Forums and during two day-long technical conferences with customers in 2012, Entergy connected with stakeholders such as elected officials, business leaders and representatives of non-governmental organizations about their perceived vulnerabilities. Basically, Williams says, they talked about what was keeping them up at night.
"Any time you do anything that raises costs, you have some customers who aren't on board with that," he says, adding that investments in resilience can realistically be expected to save money in the long run.
By investing $50 billion in the most cost-effective mitigation measures, such as improved building codes, beach nourishment and roof cover retrofits, Gulf Coast communities could avert about $135 billion in annual losses over the next 20 years, Swiss Re estimated.
Further to that, Williams says, when climate change is taken into account, "arguably, we haven't seen the big storm yet."
Finally, bear in mind that none of this is theoretical. The Atlantic hurricane season, according to NOAA, officially starts on June 1.