U.S. Finalizes Truck Fuel and Emission Standards
John Simpson | August 25, 2016
The U.S. Environmental Protection Agency (EPA) and the U.S. Department of Transportation's National Highway Traffic Safety Administration have finalized fuel efficiency and greenhouse gas emission standards for medium- and heavy-duty vehicles and engines covering model years 2021-2027.
The performance standards, four years in the making, apply to semi-trucks, large pickup trucks and vans and all types and sizes of buses and work trucks. The agencies say they expect the new standards to lower CO2 emissions by approximately 1.1 billion metric tons and reduce oil consumption by up to two billion barrels over the lifetime of the vehicles sold under the program.
GHG emissions reductions and fuel efficiency improvements will extend across all of these vehicle types. When the standards are fully phased in, semi-tractors, for example, are expected to achieve up to 25% lower CO2 emissions and fuel consumption than an equivalent tractor in 2018.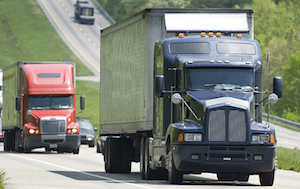 With new standards, semi-tractors will achieve up to 25% lower CO2 emissions and fuel consumption than an equivalent tractor in 2018. Image credit: U.S. DOT.The rule also puts in place the first-ever fuel efficiency and GHG emissions standards for trailers used with heavy-duty combination tractors—broadly, box vans, flatbeds, tankers and container chassis. The EPA's (GHG-related) trailer standards will take effect in model year 2018, while NHTSA's (fuel efficiency) standards will begin as of 2021, with credits available for voluntary participation before then.
The new "Phase 2" standards for medium- and heavy-duty vehicles build on the "Phase 1" standards—finalized in 2011 for medium- and heavy-duty vehicles covering model years 2014 through 2018—which emphasized use of off-the-shelf technologies for compliance. The new standards are based not only on currently available technologies, but also on utilization of advances now under development or not yet widely deployed.
For each category of heavy-duty vehicle, the standards set performance targets that allow manufacturers to achieve reductions through a mix of different technologies, generally leaving them free to choose any means of compliance. Tractor standards can be met using combinations of improvements, such as advanced aerodynamics, engine improvements and waste-heat recovery, automated transmission, lower-rolling-resistance tires and automatic tire inflation.
The final standards, arrived at after the receipt of over 200,000 public comments on those proposed in July 2015, represent a toughening of the fuel and emissions standards as originally conceived. For diesel tractor engines, for example, the agencies are adopting standards for model year 2027 that are more stringent than the preferred alternative from the proposal, requiring reductions in CO2 emissions and fuel consumption that are 5.1% greater than the 2017 baseline for tractor engines.
"We are in the process of reviewing [this] highly complex rule to determine if it aligns with manufacturers' efforts and customer needs," comments Truck and Engine Manufacturers Association President Jed Mandel. "If not, the Phase 2 program would impose enormous costs on our customers, constrain customer choice and, as a result, impose significant challenges to its successful implementation."