Video: Fuel cell and battery drive heavy duty truck
S. Himmelstein | October 31, 2019
A zero-emissions battery and hydrogen fuel cell-powered truck may soon be plying the roads. Cummins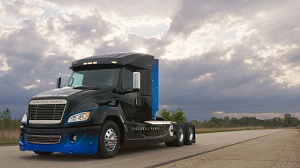 The truck has a range of 150 to 250 miles. Source: Cummins Inc.introduced the demonstration vehicle at the 2019 North America Commercial Vehicle Show in Atlanta.
Equipped with a 90 kW proton exchange membrane fuel cell from Hydrogenics and a lithium-ion battery with 100 kWh capacity, the truck offers a range of 150 to 250 miles. Power output can be increased by scaling up fuel cell capacity in 30 kW or 45 kW increments up to 180 kW, installing extra hydrogen storage tanks or increasing tank storage pressure.
The powertrain system and other components included in the 6 x 4 day cab tractor were designed by Cummins. Urban delivery operations, port drayage and other heavy-duty applications are envisioned for the hydrogen fuel cell truck.