"Saildrones" to Capture Oceanographic Data in Bering Sea
John Simpson | June 16, 2016
The National Oceanic and Atmospheric Administration (NOAA) is using specially equipped autonomous, wind-powered vessels to collect oceanographic data and information on endangered and commercially important species living in remote areas of the Bering Sea. "Saildrones" will operate in four major locations of the sea from late May to September 2016 to collect data on fish and whales, oceanographic conditions and fur seals.

The Saildrone incorporates a nearly-20-foot-high carbon-fiber wing to help it sail at speeds of up to 16 mph through water carrying up to 200 lbs. of instrumentation, including high-resolution sensors measuring wind, air temperature and humidity, barometer, ocean surface temperature, water temperature, salinity, dissolved oxygen and fluorescence. As an autonomous vessel, there is no need to "drive" or monitor the Saildrone: similar to a ship with a set course, the vessel will continue on its path while continuously taking measurements, notifying on-call engineers of potential dangers via phone.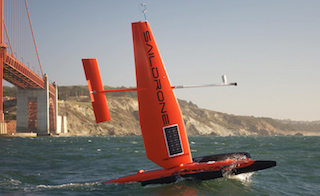 The Saildrone incorporates a nearly-20-foot-high carbon-fiber wing to help it sail at speeds of up to 16 mph while carrying up to 200 lbs. of instrumentation. Image credit: Saildrone."Last year, we successfully implemented a three-month Saildrone mission in the Bering Sea to remotely collect data on physical oceanographic conditions via satellite in near real-time," says Christopher Sabine, director of NOAA Research's Pacific Marine Environmental Laboratory. "This summer, we are testing other new technologies in the hopes of demonstrating their efficacy for remotely collecting critical biological data."
Studies of the Bering Sea and Arctic waters traditionally have been conducted with ships. However, research vessels have a host of shortcomings, including their cost, limited range of observation and ability to carry out only seasonal measurements. Saildrones, however, are capable of long-range autonomous missions of up to 12 months to any ocean location while carrying a solar-powered sensor package that streams real-time data to shore via satellite. The unmanned autonomous surface vessels are designed to be able to collect data more quickly and inexpensively than conventional technologies such as ships and buoys.
According to NOAA, use of the innovative vessels in colder waters could allow scientists to enhance ship time, expand their range of measurements in the ocean and continue to monitor through the entire year. These measurements can be used to better understand warming temperatures, decreasing sea ice and ocean acidification in an area that is not only a productive ecosystem, but also a valuable fishery for salmon, king crab and walleye pollock.
The Bering Sea nonetheless presents potential challenges to the Saildrone. Strong currents around Alaska can make steering difficult, while limited sunshine may affect some of the solar-powered instruments. Perhaps the most significant test the vessels face will be navigating through a potential sea of jellyfish. In large enough numbers, the jellyfish can clog the water intake system that allows the suite of instruments to take measurements.