Underwater Vessels Launch in Bay of Bengal to Help Predict Monsoons
John Simpson | June 30, 2016
Scientists from the UK and India are releasing a team of autonomous underwater vehicles (AUVs) into the Bay of Bengal to study ocean processes that they hope will help them predict monsoon rainfall.
Summer monsoons provide 80% of annual rainfall to approximately one billion people in India. Forecasting the precise timing and location of the rains is vital to the region's economy and for managing its increasingly pressured water resources.
The expedition is being carried out onboard ORV Sindhu Sadhana, the research vessel managed by India's National Institute of Oceanography, from which scientists from the University of East Anglia (UEA) and the National Oceanography Centre Southampton will release seven underwater robots to take measurements of ocean conditions to determine how these vary across the bay. The underwater Seagliders will spend a month at sea measuring ocean properties such as temperature, salinity and current along a 250-mile stretch of water.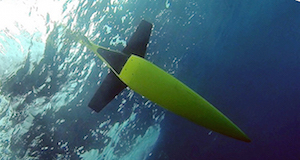 Designed to operate at depths of up to 1,000 meters, the AUV's hull compresses as it descends, matching the compressibility of seawater. Image credit: University of East AngliaAs the torpedo-shaped AUV moves through the ocean, it will communicate with satellites to transmit data and determine its global position—using changes in buoyancy for thrust and a stable hydrodynamic shape to achieve flight in the water. Its low-drag body, horizontal wings and fixed rudder will allow it to fly up and down through the water column.
As the Seagliders dive and ascend, their wings will enable them to glide, allowing horizontal movement. Internal sensors will monitor their depth, heading and attitude. External sensors will constantly scan the ocean to determine water properties.
Developed at the University of Washington, Seagliders are designed to operate on extremely modest energy requirements. Capable of diving to depths of up to 1,000 meters, the vessel's hull compresses as it descends, matching the compressibility of seawater.
Seagliders make oceanographic measurements traditionally collected by research vessels or moored instruments, but at a fraction of the cost. They can survey along a transect, profile at a fixed location and can be commanded to alter their sampling strategies throughout a mission.
"We will be combining oceanic and atmospheric measurements to monitor weather systems as they are generated," says principal UK investigator Professor Adrian Matthews, from UEA's School of Environmental Sciences. "Nobody has ever made observations on this scale during the monsoon season itself, so this is a truly groundbreaking project."
Last year, the monsoon spread rapidly over northern India, causing devastating damage. Prolonged breaks in 2009 led to a severe shortage of rainfall and poor harvests.
"Ultimately, the goal is to improve the prediction of monsoon rainfall over India," says Matthews. "This will be enormously beneficial for farmers in India, who need to know when and how much rain will fall. This would then enable them to change the timing of how they plant their crops."