NYC Builds Rain Gardens to Ease Burden on Sewers
John Simpson | June 09, 2016
New York City has begun construction of 321 curbside rain gardens in the Queens neighborhoods of Sunnyside, Maspeth and Ridgewood, each with the capacity to collect and absorb up to 2,500 gallons of stormwater when it rains.
Modeling shows that the rain gardens will capture an estimated 38 million gallons of stormwater each year, thereby reducing sewer overflows into Newtown Creek, one of the U.S.' most polluted waterways and an Environmental Protection Agency Superfund site.
Rain gardens are being built in city sidewalks and resemble standard street tree pits, except that they vary in size and have curb cuts that allow stormwater to enter and overflow if they become saturated. The gardens are designed so that the collected stormwater is absorbed in less than 48 hours.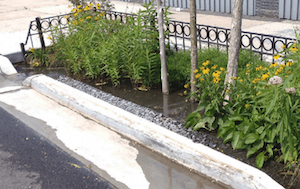 The rain gardens will capture an estimated 38 million gallons of stormwater each year. Image credit: NYC DEP. New York City is largely serviced by a combined sewer system in which stormwater that falls on roofs, streets and sidewalks, and wastewater from homes and businesses, are carried through a single sewer line to treatment plants. During intense precipitation events, stormwater that falls on the city's impervious surfaces exceeds the ability of the city's 14 wastewater plants to treat to federal Clean Water Act standards that added capacity, and overflows are sometimes discharged into local waterways. If the overflows were not discharged, the city's treatment plants would be flooded and severely damaged, and wastewater could back up into homes and businesses.
New York's Department of Environmental Protection (DEP) is primarily building the rain gardens in neighborhoods that are serviced by these combined sewers. Within these neighborhoods, locations for the gardens are initially chosen by DEP engineers who, armed with maps of the local sewer systems, walk the streets and identify sidewalk locations that are upstream of a catch basin and have the space to accommodate a garden. Soil samples are then taken from the approved locations to ensure they can absorb the required amounts of stormwater.
During construction, the rain gardens are excavated to a depth of five feet and are then backfilled with layers of stone and engineered soil, which contain void spaces that store the stormwater and promote infiltration. The addition of hardy plants further encourages infiltration through root growth and increases the capacity of the rain garden through evapotranspiration, i.e., evaporation of water from the soil and transpiration of water from vegetation.