Multiline Anchor for Floating Wind Turbines Under Development
Engineering360 News Desk | April 29, 2016
A team of researchers from three universities is developing a mooring system for floating offshore wind turbines that uses an integrated network of anchors and lines to hold dozens or even hundreds of turbines in place in the ocean.
Civil and environmental engineers Sanjay Arwade and Don DeGroot from the University of Massachusetts at Amherst, along with Charles Aubeny from Texas A&M University and Melissa Landon of the University of Maine, are working with Vryhof Anchors, a developer of offshore anchoring systems, including that used by the world's first floating offshore wind turbine in Norway.
Currently, floating wind turbines each require their own individual anchoring system. The proposed networked system would save money and require fewer anchors and geotechnical site investigations, the researchers say.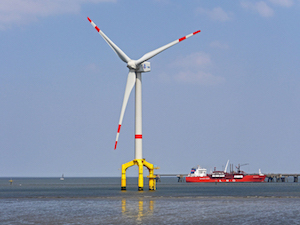 Currently, floating wind turbines each require their own individual anchoring system. Image credit: Pixabay.In order to accomplish their goal, the researchers are evaluating the feasibility and design implications of highly variable soil conditions on the ocean floor for securing the anchors, the layout of the wind farms and the complex dynamics that cause loads on the anchors. In addition, the scientists will develop wind and wave models to help determine the best placement and orientation of the wind farms.
The team is also investigating different designs for the mooring lines, i.e., the connections between the floating wind turbine and the anchors, Arwade says. Ultimately, they will develop three-dimensional models for measuring the behavior of the anchors on the sea floor and the optimal designs for the multiple cables attached to each anchor.
"At each level—the floating structure and the anchor—there are challenging nonlinear and dynamic issues that force this research to work at the cutting edge of geotechnical engineering and offshore structural engineering," Arwade says.