Large Floating Wind Farm Okayed for Construction
Engineering360 News Desk | June 02, 2016
The Crown Estate has granted a lease to Norwegian oil and gas company Statoil enabling construction to begin on a floating wind farm, to be located off Scotland's east coast.
The Hywind project consists of five 6-MW turbines that will be deployed on floating structures in deeper water than any previous offshore wind turbines around the coast of the UK. The windfarm will cover approximately four square kilometers at a water depth of 95-120 meters.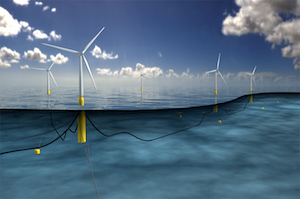 The windfarm will cover four square kilometers at a water depth of 95-120 meters. Image credit: Statoil.Hywind's floating wind turbines incorporate a steel cylinder filled with a ballast of water and rocks. The turbines will be positioned between 720 and 1,600 meters apart and attached to the seabed by a mooring spread and anchoring system. Three anchors will be required per turbine, and the radius of the mooring system will extend 600 to 1,200 meters out from each turbine.
The deep-water technology that will be used has been proven effective in a demonstration project off the coast of Norway that began in 2010.
The average wind speed in this area of the North Sea, Buchan Deep, is approximately 10 meters per second. Each wind turbine generator unit is expected to produce between 15 and 30 GWh of electricity per year. In total, the wind farm will provide power for around 20,000 households.
The planned operational lifetime of the windfarm is 20 years.