Pumping in Parallel Is Not Always Simple
Engineering360 News Desk | April 27, 2016
Inadequate flow rate often plagues two-pump systems, particularly in plants that are more than 10 years old. Meanwhile, plant output requirements likely have increased while the equipment has become less efficient.
Faced with this scenario, many operators will start and operate the second pump. While this might seem logical because the two pumps are installed in the same system, that strategy may fail, according to a blog post by HSI executive Jim Elsey.
(See the Engineering360 guide to liquid handling pumps.)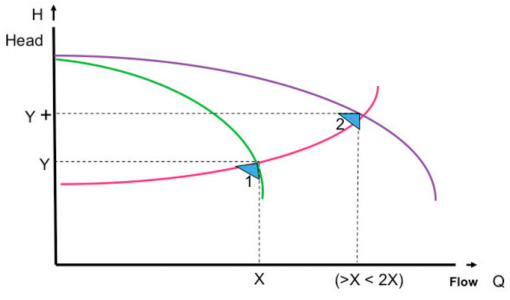 Typical system designed for two pumps to operate in parallel. When the second pump starts (point 2), the friction presented by the higher flows yields a slightly steeper system curve. Image source: HSIElsey says that when a system is not designed for two or more pumps to run simultaneously, in parallel, it will not take long for both pumps to experience issues. Therefore, with a two-pump system the first step in solving inadequate flow is to determine how the system is designed: two pumps set up to run individually and/or in parallel, or two pumps set up so that one serves as an installed spare.
To find the solution to inadequate flow from a parallel pump system, start by examining the system curve, he says. If it's not available, work with plant personnel to calculate and develop the system curve. By overlaying the system curve on the pump curves, the flow issue and possible solutions become readily apparent.
In many cases, the system designer may have developed the system to have one pump do all of the required work (100% duty), with a second redundant pump as an installed spare or backup pump. This spare pump is ready for operation so that the first pump, when necessary, can be removed from service without disturbing production. Both pumps and their associated motors and controllers have been designed for 100% duty.
The intersection of the single pump curve and the system curve should be near the pump's best efficiency point (BEP), Elsey says. In these cases, the piping system is not designed for both pumps to operate simultaneously. Pipe diameter likely is typically too small to efficiently handle the higher flows, and creates excess friction loss when both pumps are operated together.
If, however, the system is designed for both pumps to operate together, then the system curve will be flatter overall and present less friction.