Robotics Light Up Skin with Stretchability
By Riia O'Donnell | April 06, 2016
A team of graduate students at Cornell University in New York has created an electroluminescent "skin" that can stretch more than six times its size while emitting light. The skin could lead to advances in health care, electronic communication, transportation and other industries.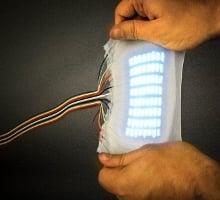 Cornell grad students developed a highly stretchable electroluminescent skin. Photo credit: Chris Larson Based on layers of transparent hydrogel electrodes that sandwich a dielectric and insulating elastomer sheet, the hyper-elastic light-emitting capacitor (HLEC) is capable of taking twice the strain of current stretchable displays, the team says. The elastomer changes color, luminescence and capacitance (electrical charge storage) when rolled, stretched or otherwise deformed.
Three six-layer HLEC panels are bound together to form a crawling soft robot. The four top layers comprise the light-up skin and the bottom two are pneumatic actuators. The layers, in addition to being stretchable, can walk forward independently, when the lights are actuated in sequence.
The material can stretch with the body of a robot, the team's focus. With its two key properties, the ability to change color and its ability to change shape, the researchers say the material may enhance future robotics of the future. They say the ability to change color, in response to mood, for example, can bridge the emotional connection humans desire as machines continue to enhance our lives. They also see a future application in wearable displays.