Unmanned Undersea Vessel Can Operate Autonomously for Months
By Engineering360 News Desk | March 24, 2016
Boeing has unveiled an unmanned, undersea vehicle (UUV) that can operate autonomously underwater for months at a time thanks to a hybrid rechargeable power system and modular payload bay.
The 51-foot-long Echo Voyager is not only autonomous while under way, but can also be launched and recovered without the support ships that normally assist UUVs. Echo Voyager is the latest addition to Boeing's UUV family, joining the 32-foot Echo Seeker and the 18-foot Echo Ranger.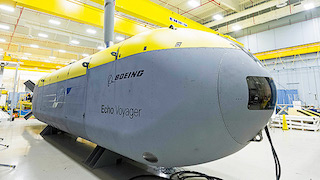 Echo Voyager is the latest addition to Boeing's UUV family. Image credit: Boeing. "Echo Voyager can collect data while at sea, rise to the surface and provide information back to users in a near-real-time environment," says Lance Towers, director, Sea and Land, at Boeing Phantom Works. "Existing UUVs require a surface ship and crew for day-to-day operations. Echo Voyager eliminates that need and associated costs."
While the vessel's utility for missions such as monitoring oil spills is obvious, Towers says that Echo Voyager was not designed with one customer in mind.
"Think about how the 737 is a commercial airplane, but it also has a derivative for the P-8 program. This is the same thing. It is a baseline vehicle that has the ability to carry a wide variety of payloads for a multiple set of customers," he says.
Potential customers range from defense clients to agencies such as the National Oceanic and Atmospheric Administration, Towers says.
Echo Voyager will begin sea trials off the California coast later this summer.