Water Desalination Plant Opens in California
Engineering360 News Desk | March 14, 2016
One of the largest desalination plants in the western hemisphere opened in late 2015 and produces some 50 million gallons per day of potable water for use in San Diego County, Calif.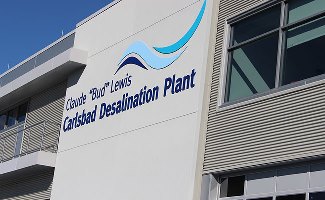 The plant produces 50 million GPD of potable water for San Diego County, Calif.The Claude "Bud" Lewis Carlsbad Desalination Plant takes in 100 million gal./day of water from the nearby Encina Power Plant, which uses the water for process cooling. A filtering and chemical treatment process removes and precipitates solids to prepare the water for purification through reverse osmosis.
The freshwater output from the plant is pumped through a 10-mile pipeline that is 4.5-feet in diameter. The pump station's eight multistage vertical turbine pumps lift the drinking water 1,200 feet through pipe running from Carlsbad to San Marcos, Calif. The plant's water output represents about 10 percent of the county's total water use.
Flowserve received the multi-million-dollar pump order in late 2013 for the eight vertical turbine pumps, and for three large, vertical seawater-intake pumps. One performance characteristic of the high-speed electrical pumps is that they are acoustically attenuated to meet city noise ordinances. The intake pumps are constructed from super-duplex stainless steel. The turbine pumps are double-suction, twin-volute models constructed from Type 316L stainless steel.
An additional 15 desalination plants are proposed for sites across California. There are about 17,000 desalination plants operating around the world in 150 countries, according to analysts at Frost & Sullivan. The market earned $11.66 billion in 2015, and Frost & Sullivan estimates it to grow to $19.08 billion in annual revenue by 2019.