3D printing our way into the future of acoustic systems
Emily Councilor | March 05, 2022
The University of Strathclyde in Glasglow, Scotland is aiming to change the way acoustic systems are created in hopes of lowering cost, cutting material requirements and reducing complications in the design process.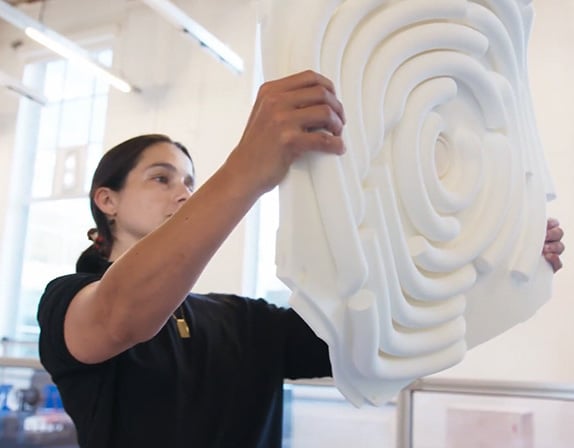 TU Delft and Materialise developed 3D printed sound-absorbing panels that improved acoustics within concert halls and sports arenas. Source: TU Delft.
With funding assistance from the Engineering and Physical Sciences Research Council and UK Research & Innovation, the Miniature Acoustic Resonator System project aims at researching and developing ways to design acoustic resonators made from "metamaterials," i.e. artificially structured materials, in a 3D printing process. The hope is to simplify the creation process of acoustic devices without relying on expensive electronic components while still getting the same sound optimization.
3D printing has been used for some time to create sound-enhancing products for places like concert halls or music studios. Previously, though, when manipulating acoustic properties, the majority of research has focused on analyzing and processing signals using expensive external electronics instead of simplifying the material and focusing on how those signals can be amplified, suppressed or improved.
By using these materials and 3D printing, the RESINators were able to drastically reduce the need to source expensive and difficult electronics and instead create a path by rethinking how the devices are designed. "The majority of research into the sound-detection part of external hearing aids and cochlear implants – an electronic device that electrically stimulates the cochlear nerve for hearing – is related to electronics, such as the analysis of signals and digital signal processing," said Project Lead Dr. Joe Jackson, from the University of Strathclyde's Department of Electronic and Electrical Engineering. "But this is expensive and takes battery life, and the more advanced the devices, the more impractical they can become, with the user having the charge their hearing aid every few hours, for example."
Said metamaterials have the unique ability to create acoustic properties unobtainable in traditional materials and have proven to be reliable when measuring noise suppression and cancelation. By using 3D printing, the team has found great success in miniaturizing the devices that would otherwise prove to be difficult to reduce in size. Devices like hearing aids can benefit greatly from this project. This also introduces sustainability into the creation process.