3D Printers Build on Manufacturing Success with New Designs, Materials
Winn Hardin | September 22, 2014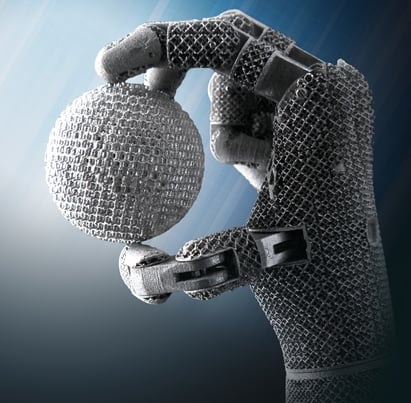 A lightweight, fluid-powered robotic hand that combines fluid power with additive manufacturing technologies could have application potential in robotic assembly, prosthetics and remote handling of hazardous materials. Source: Oak Ridge National Laboratory, Jason Richards.
3D printing, also called additive manufacturing, is gaining market acceptance and momentum as new additive materials, operational expertise and printer designs overcome 3D printing's traditional challenges of part size, speed limitations and durability.
One of the challenges facing 3D printing is the ruggedness of the printed parts. Early additive manufacturing systems exclusively used polymers. But polymers cannot withstand high stresses or temperatures, causing many to dismiss 3D printing as a fad.
Recently, 3D Material Technologies (3DMT), an Arc Group Worldwide company, installed seven metal 3D printing machines at its Deland, Fla., facility. Its goal is to become a full-service provider for manufacturers unable or unwilling to invest in their own systems. Because metal printing technology has arisen in the last 10 years, price and user requirements continue to be a challenge, according to Ashley Nichols, 3DMT's general manager and material science engineer.
"The cost of such a machine at the low end is about $600,000," says Nichols. "Then when you get into the people who run it, you are talking about a high-skill-level employee, most likely with an engineering degree."
These costs haven't stopped larger companies from adopting the technology, however. GE's aviation division, for instance, will spend $50 million on a high-volume 3D printing facility in Auburn, Ala., to produce fuel nozzles for its next-generation jet engines. Over the next 5-10 years, GE's investment in 3D printing will likely be in the hundreds of millions of dollars as the company continues to identify new applications and uses for additive manufacturing.
Meanwhile, Singapore's Nanyang Technological University recently opened an additive manufacturing center equipped with machines that can print everything from metal parts to human tissue. Other countries such as China, South Korea and Japan are also investing in 3D printing, realizing its long-run growth potential.
"In the past, CNC (computer numerical control) machine tools would be used to drill cooling channels inside of the mold, but the machines can only drill straight lines," says Alex Chausovsky, senior principal analyst in the Industrial Automation group at IHS. "Now, you can use a 3D printer to produce a mold where the cooling channels take on more of a helix approach to decrease the cooling time of that mold." The decreased cooling time leads to increased productivity and higher profitability for the manufacturer.
While a 3D printed metal mold may not be as hard or last as long as a mold made using traditional CNC machining, that 3D-printed mold can be used in two ways, says Chausovsky. First, the mold may be used as the template for low-cost production runs that are geographically closer to the final demand market. Rather than outsourcing to China, for instance, U.S. manufacturers are looking to places such as Mexico and Western Europe is targeting Poland and the Czech Republic.
Second, manufacturers are finding that for small runs with highly complex products, it's comparable, and in some cases cheaper, to make them in the United States using 3D printers "rather than dealing with the time and logistics costs involved in making something in China and sending it back to the U.S.," says Chausovsky.
The interest in 3D printing technology comes from all manufacturing ranks, not just the big players like GE, Siemens and Boeing, Chausovsky says. "Everyone is trying to figure out how the technology affects their business, whether it is an opportunity or threat in the long term and how to make sure they are not left behind as the technology continues to pick up steam."
One way smaller companies are taking advantage of the latest 3D printing technologies is through service providers that have built 3D printing centers where manufacturers can send their designs and have them printed out. "This service-provider model is fueling the wider adoption of 3D printing technology," he says. "It's important for companies to understand that even if they cannot imagine using 3D printing right now, everybody who is involved in manufacturing needs to pay attention because the technology continues to evolve. More and more applications for 3D printing continue to be developed every day."
The Manufacturing Demonstration Facility (MDF) at Oak Ridge National Laboratory in Tennessee is tackling two other traditional limitations to additive manufacturing: size and speed. Size can be a problem for 3D printing processes because of spatial distortions caused by thermal variations between material and environment.
"As a part cools a certain number of degrees, it shrinks down from the deposition temperature to the surrounding temperature," say Chad Duty, group leader of the Deposition Science and Technology Group at Oak Ridge's manufacturing demonstration facility (MDF). The difference in temperature will create stress on the part, which will cause warp, curl and distortion. By increasing the surrounding temperature by putting the part in the oven, "you reduce the amount of stress." Building bigger ovens in bigger printers may become cost-prohibitive, however.
Early last year, MDF researchers started developing a large-area additive manufacturing system that looks outside the oven envelope. The group used pelletized polymer mixed with chopped carbon fiber that not only limited distortion but also resulted in a stronger, less expensive material. Currently, the largest commercial 3D printer on the polymer plastic side offers a 2x3x3-foot build envelope, Duty says.
A larger-scale filament also enabled a higher flow rate by about two orders of magnitude over existing systems. "Instead of the current deposition speed of 1 in.³ to 5 in.³ per hour, we are depositing more at 100 in.³ to 500 in.³ an hour," Duty says. "A part that may take 10 hours to build on a large-scale system would take 10 months or so on the smaller-scale system."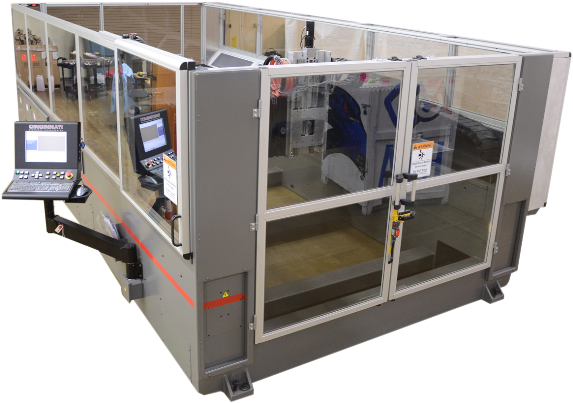 The Big Area Additive Manufacturing (BAAM) machine printed an entire car in September at the IMTS show. Source: Cincinnati Inc.Oak Ridge is partnering with machine-tool manufacturer Cincinnati Inc. to transition the technology from the lab to a commercial product. The system, which printed an entire car over the course of the International Manufacturing Technology Show (IMTS) in September 2014, features a build volume of 6x12x3 feet. The Oak Ridge teams plan to develop a system twice as large.
Size isn't the only thing that matters when it comes to new materials for additive manufactured parts. Continued improvements in material science also translate into more solutions from manufacturers. Printer manufacturer 3D Systems of Rock Hill, S.C. offers more than 120 materials that mimic their counterparts from traditional manufacturing but take advantage of 3D printing, says Diana Kalisz, the company's head of development. "In the case of aerospace applications, one of the major benefits has been weight reduction," she says.
Not only will more materials become available, but the combination of multiple materials can lead to products with multifaceted colors and properties. "You could have a toothbrush with a clear shaft and pink rubber grip on it in a single build with different firmness levels to the materials," says Jon Cobb, executive vice president of corporate affairs for 3D printer manufacturer Stratasys.
His company recently 3D printed a part for a drone aircraft wing, then sent it to another company that printed the electrical circuitry.
"In the future, a company may combine both the 3D printing process and the printed circuitry process into a single machine that can print out entire products," Cobb says. IHS's Chausovsky says that German-Japanese based machine tool maker DMG MORI is one example of a company offering hybrid technology. Its LASERTEC 65 3D machine combines the traditional manufacturing technique of CNC machine tooling and the additive manufacturing technique of laser metal deposition.
By most accounts, 3D printing has moved beyond fad status. "Long term, it's going to be a technology that will truly transform the manufacturing landscape," Chausovsky says. "It will fit right alongside many of the traditional manufacturing techniques that are being used today."
Despite these recent improvements, Chausovsky cautions that small- and mid-sized manufacturers in particular still must tread carefully.
"When you're talking about the type of tolerances and quality that are necessary to achieve both the high-end prototyping and production of final end-use parts, industrial-grade 3D printers can cost anywhere between tens of thousands to more than $1 million," Chausovsky says. "Those companies with 500 employees or fewer, which account for 90% of the manufacturing sector, simply don't have the budget necessary to invest in some of the high-end 3D printing machines."
Additional Resources:
U.S. Energy Department Printing a Car: A Team Effort in Innovation
IHS Technology Editorial: 3-D printing: 'Disrupts manufacturing status quo'
The latest industrial-grade additive manufacturing machines are pushing the boundaries of what is possible with 3D printing technology
Asia investing heavily in 3D printing technology