Watch: 3D printing a bigger boat and a da Vinci bridge
S. Himmelstein | October 14, 2019
While it may not be the bigger boat requested in the movie Jaws, the 25 ft, 5,000 pound boat built by researchers at the University of Maine Advanced Structures and Composites Center is the first of its kind. The vessel was 3D printed in 72 hours using what is reportedly the largest prototype polymer 3D printer, and the feat earned the center three Guinness World Records for the world's largest prototype polymer 3D printer,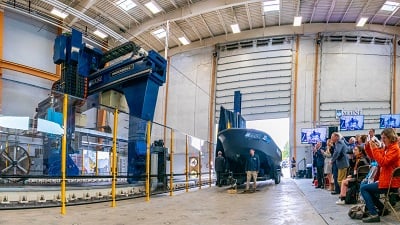 The boat produced by what is reportedly the largest prototype polymer 3D printer. Source: University of Mainelargest solid 3D-printed object and largest 3D-printed boat.
The team tested the seaworthiness of the boat, dubbed 3Dirigo, in an offshore model testing system featuring a multidirectional wave basin and a high-performance wind machine. The printer is capable of producing larger objects with dimensions of 100 ft long by 22 ft wide by 10 ft high.
The collaborative project with Oak Ridge National Laboratory is exploring the use of cellulose and other biobased feedstocks as additive manufacturing materials. The 3D printer is also being applied to the production of rapidly deployable, low-logistics infrastructure systems for the U.S. Army Corps of Engineers. The partnership will design a 5,000 pound, 21 ft long 3D printed mold for a new 76 ft long composite bridge girder for the agency in addition to rapidly deployable shelter systems for the U.S. Army Combat Capabilities Development Command Soldier Center.
In another novel use of the technology, MIT engineers used 3D printers to confirm the structural stability of a bridge designed, but never built, by Leonardo da Vinci 500 years ago. The 918 ft long (218 meter) masonry bridge was proposed to link Istanbul with the neighboring city of Galata. The stability of unusual flattened arch design was evaluated by replicating the bridge at a scale of 1 to 500, using 1,263 printed blocks. The resulting structure remaining strong and stable without the use of mortars or fasteners due to the forces of gravity and compression.
As demonstrated by 3D printing, da Vinci's bridge design is technically feasible.