3D-printing System Can Print More Than One Material at a Time
Siobhan Treacy | May 30, 2018
3D printing is doing great things in many fields, from healthcare to automotive production. While 3D printing has been a huge development, there is still plenty of room for it to grow and improve. Currently, 3D printing can only print using one material. But researchers from Washington State University are developing a new 3D printing system that is changing that. The new technology is a one-step process that can print new structures made of two different materials.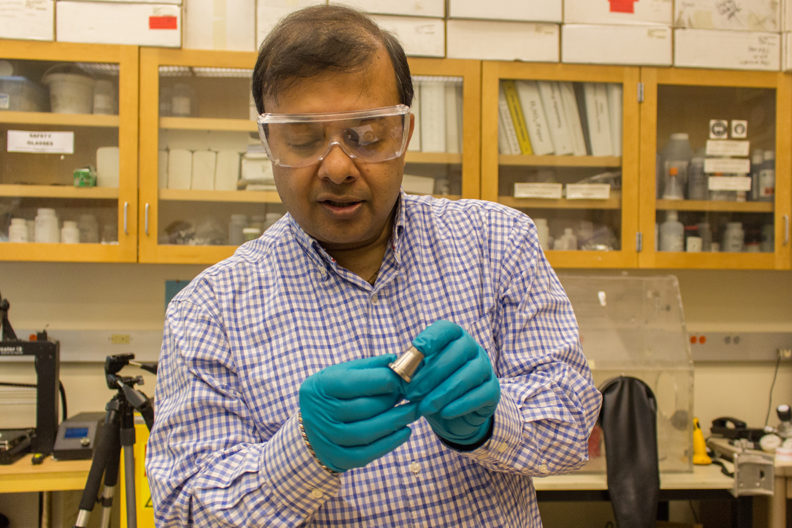 Amit Bandyopadhyay, WSU School of Mechanical and Materials Engineering, displays 3D printed bimetallic sample. Source: WSU)
Creating a 3D-printing system that can produce an object that is made out of two materials would help manufacturers lower the number of manufacturing steps, and use one machine instead of a fleet of printers. Along with streamlining the process, the multi-material printing system allows researchers to control the properties of the materials being produced. These properties include heat conduction, corrosion protection, environmental adaptation and more. Adhesives and joint connections that are currently used in production won't be required in multi-material 3D production.
The researchers developed a laser-based 3D printer that was able to join the materials in one step. The new printing system has been used to print metal and ceramic structures as well as a bimetallic tube, which is magnetic on one end and not magnetic on the other.
The new system 3D printed Iconel 718, a nickel-chromium alloy that is used in liquid-fueled rockets as well as sheet metal parts in airplane engines. Iconel 718 can withstand very high temperatures but it takes a long time to cool down. The researchers added copper to the nickel-chromium alloy, which made the material cool down 250 percent faster, which leads to a longer life and higher fuel efficiency for airplane engines. The system was also able to produce a metal-ceramic material in one operation for the first time.
The paper on the new 3D-printing system was published in Additive Manufacturing.