Army Tests Image-Based Airdrop System
By Engineering360 News Desk | February 09, 2016
The U.S. Army is testing an airdrop guidance system that uses imagery, and minimal knowledge about an aircraft's location, to steer supplies to a precise point on the ground. The accuracy is critical, as payloads that stray off course can force troops to expose themselves to enemy fire.
Precision airdrops are expected to allow the U.S. military to rely less on truck convoys and helicopter resupply. Exposure to improvised explosive devices and ambushed convoys resulted in more than 3,000 causalities in Afghanistan and Iraq through 2007, according to Draper, which is supplying the technology.
Draper's JPADS software autonomously flies the cargo-carrying parafoil to land at a user-defined location. During recent testing in Arizona, JPADS-enabled parafoils carrying supplies dropped from aircraft were able to determine their location by comparing terrain features using optical sensors with commercial satellite imagery of the area.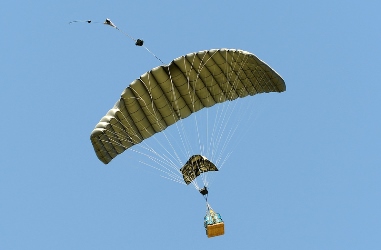 JPADS software flies the cargo-carrying parafoil to land at a user-defined location. Image credit: U.S. Army. Chris Bessette, JPADS program manager for Draper, says that "by enabling the system to operate using imagery alone when dropped as high as 25,000 feet above mean sea level and upwards of 20 miles away from the target depending on winds, we can ensure that JPADS is even more versatile so troops receive supplies like fuel, ammunition, food and water in the safest manner possible."
Draper is developing upgrades to the vision-aided navigation system to address current limitations, such as cloud cover, which degrades the system's ability to correlate vision sensor inputs with satellite imagery.
Ultimately, the military should be able to use the same technology to help guide paratroopers and unmanned aerial vehicles using imagery data alone.