The new Verderflex Ds500 dosing and metering pump with IoT functionality
Diana Aoun | March 08, 2023
Verder Liquids recently announced the release of the Verderflex Ds500 metering and dosing pump, which has been designed specifically to improve accuracy and lower total cost of ownership for end users. This equals upfront costs and lifetime operation including service, tool free maintenance and chemical usage in municipal and industrial pumping applications.
One of the most notable features of the Ds500 is that it has an easy 'click and go' cartridge change. The peristaltic cartridge — the main wearing component of the pump — can be changed in one minute resulting in minimal down time and spare part components.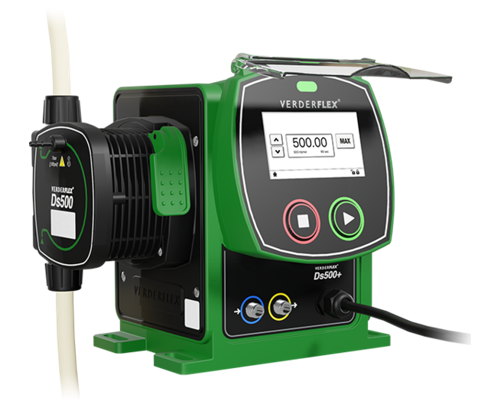 Source: Verder Liquids
The integrated remote assistant internet of things (IoT) monitoring adds value by supporting monitoring but does not allow control of the pump. This ensures process accuracy and enables operators to record performance, plan maintenance and prevent downtime. Machine learning harnesses the 'intel' from the pumps to help predict tube/cartridge life before failure and allow efficient maintenance planning.
Thanks to its intuitive design, the Ds500 can deliver up to +/1% accuracy with a smoothed flow (i.e., reduced pulsation). In addition, the pump delivers accurate flow performance from 0.1 ml/min up to 500 ml/min and pressures of up to 7 bar. This means greater accuracy and smoother flow. It wastes less chemical and saves on the life operation cost, supported with a 5,000:1 turndown.
As a peristaltic pump unit, the Ds500 can handle solids, abrasives, slurries, crystals and is not affected by 'off gassing' (i.e., such as sodium hypochlorite in the potable water industry). The Ds500 can provide a reliable service life without the need for additional valves or complicated pipework required by other systems, and therefore has lower installation cost.