Nuclear Power Plants Set Reliability Record in 2015
Engineering360 News Desk | January 20, 2016
U.S. nuclear energy facilities operated at an estimated average capacity factor of 91.9 percent in 2015, the highest in history, according to preliminary data from the nation's 99 nuclear plants compiled by the Nuclear Energy Institute. Capacity factor measures the total electricity generated as a percentage of potential generation for the entire year.
Actual electricity production from nuclear energy facilities in 2015 was the fifth-highest ever, at an estimated 797.9 billion kilowatt hours (kwh). The industry's record high electricity generation came in 2010, when the 104 reactors then operating produced 806.9 billion kwh of electricity. They posted an industry average capacity factor of 90.9 percent.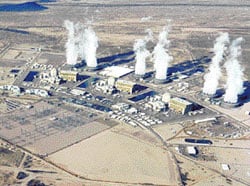 Nuclear energy facilities produce around one-fifth of U.S. electricity supplies. Image credit: Sandia National Laboratories. As a result of their high capacity factors, nuclear energy facilities produce approximately one-fifth of U.S. electricity supplies, despite making up about 10 percent of the nation's installed electric-generating capacity.