New system for precise application of small beads
Engineering360 News Desk | February 16, 2023
Meter Mix, a manufacturer of meter, mix and dispense machines, has introduced its LiquidFlow 2, a new progressive cavity pump system for extremely fine dispensing of adhesives and potting compounds.
According to the company, dosing very small quantities is often required for potting electronic components as well as for bonding and sealing applications. As such, Meter Mix has designed the LiquidFlow 2 for these requirements. The compact metering and mixing system is configured for either manual or robotic application of two-component polyurethane, epoxy resin, silicone and methacrylate.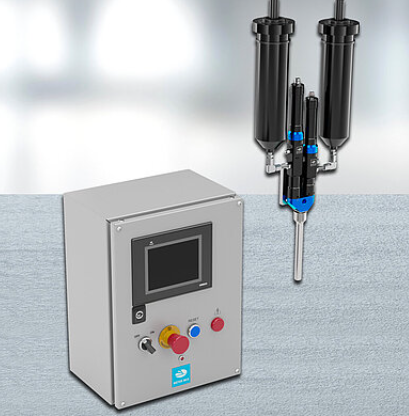 Source: Meter Mix
The LiquidFlow 2 is configured with twin progressive cavity pumps, which can be manufactured from different materials. Therefore, the system can be utilized for processing abrasive or corrosive materials. The pumps operate without pulsation. Very small beads and shots can be applied continuously and precisely. The mixing ratio is variably adjustable. Quantities from 0.006 milliliters can be dispensed with accuracy typically within ± 1%. The materials can be supplied from various containers, with the standard being 600 ml cartridges. Optional reservoirs are available in 2.5 liter and 6 liter sizes. Digitally controlled heating circuits, electric material agitators and electronic fill level indicators are also available.
Users benefit from high economic efficiency while operation is virtually silent. The machine operation is user-friendly and takes place via an integrated PLC control system with color HMI touch screen. Up to 50 programmable mixing ratios, flow rates and shot quantities can be stored via a recipe function. This enables a high degree of flexibility and fast component changeover in everyday production. An in-built anti-gel purge timer also prevents the material from curing in the disposable mixer nozzle.
The LiquidFlow 2 metering and mixing system is small and compact. Thanks to its low weight, it is also suitable for automated applications in addition to bench-top mounting. The system can be easily mounted onto a robot applicator with various transfer options, which can then be integrated into existing production lines.