New weighing machine designed for cluster tomatoes
Engineering360 News Desk | March 01, 2023
Sorma Group, a provider of processing and packaging line solutions, has developed a new weighing machine for cluster tomatoes.
The CP810 VW5 combined weighing machine is expected to overcome the main challenges relating to the packaging of cluster tomatoes, the most time-consuming, labor-intensive phase of which is the filling of trays with the appropriate combination of fruit to reach the weight required by the final customer.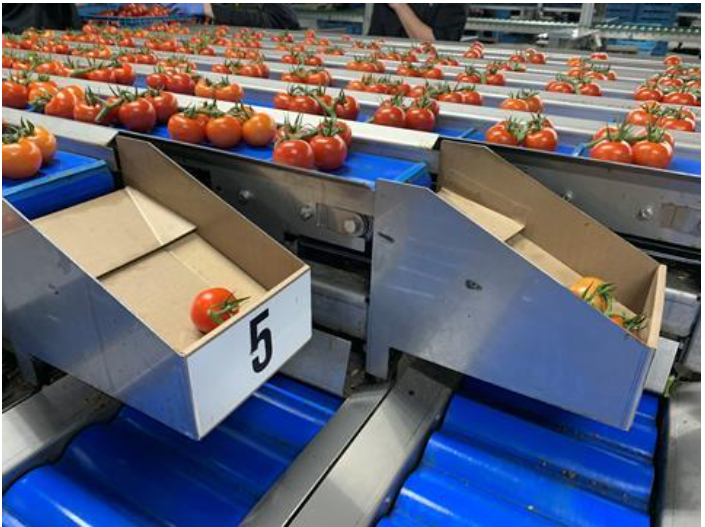 Source: Sorma Group
"This weighing machine's innovative concept is that it assists people in completion of a partially pre-filled tray," explained its developers.
"In practice, the worker part-fills the tray with products by hand, and then depending on the weight reached, the machine finds the best combination for reaching the guaranteed minimum weight and places the missing weight of fruit on the line next to the tray to be completed.
"CP810 VW5's throughput capacity is up to 60 punnets a minute, making it unique on the market."
According to its developers, the new machine can take trays up to 30 cm long and 20 cm wide, saving labor and optimizing gross saleable product while eliminating the need for six operatives (with two lines working side by side) and preventing the production of overweight trays.
"Tomatoes are one of the fruits with the highest consumption rates globally," explained the Sorma Group team, "but the trade is currently facing a paradoxical situation, with on the one hand staggering rises in production costs, especially for greenhouse-grown products, which have partially been passed on to selling prices, the labor shortage and, on the other, the real risk of a fall-off in demand due to these price increases.
Sorma Group said the CP810 VW5 weighing machine can also be used for grapes as well as other products.