OpDAT MTP cable assemblies offer high transmission rates with low space requirements
Engineering360 News Desk | February 02, 2023
Multi-fiber connectors have become the transmission method of choice in many data centers and telecommunication centers, supporting transmission of 10 Gbit/second to 400 Gbit/second and more. Multi-fiber push on (MPO)/MTP cable assemblies for fast and reliable fiber optic links provide an effective means for high and sustainable transmission rates and ensure a powerful and fast network.
Even at a lower transmission rate of 10 Gbit/second, the use of MPO/MTP cables in combination with duplex cables can offer the advantage of significant cost and space savings. METZ CONNECT exclusively uses connectors and couplings from U.S. CONEC, whose modified MPO variants are known under the trade name MTP. From the MTP product family, only connectors with Elite ferrules are used. These have excellent values with regard to insertion and return loss.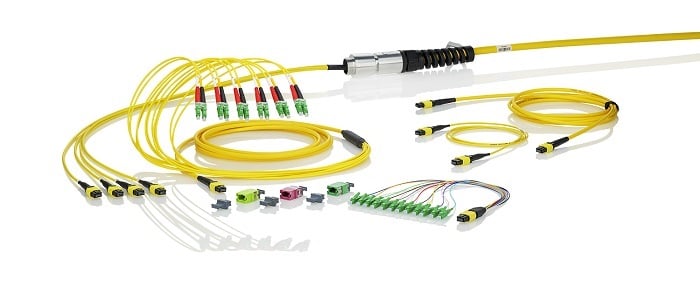 Source: METZ CONNECT
METZ CONNECT has now considerably expanded its portfolio with MPO/MTP connectors: In addition to patch cables, core fanouts, trunk cables and cable fanouts with up to 96 fibers are now also manufactured. Various cable types such as universal or breakout cables are available as well as different assembly variants, including those with pull-in aids or mounting sets.