Detecting heavy metal exposure is no sweat for this sensor
S. Himmelstein | February 02, 2023
The capacity to gauge exposure to hazardous metals by monitoring human body fluids expands with the development of a flexible, wearable sweat sensor. The electrochemical device developed by researchers from University of Munich (Germany), Chalmers University of Technology (Sweden) and University of São Paulo (Brazil) provides an inexpensive and simplified method to detect lead and cadmium in sweat samples.
A polyethylene terephthalate layer is topped with a conductive flexible copper adhesive tape incorporating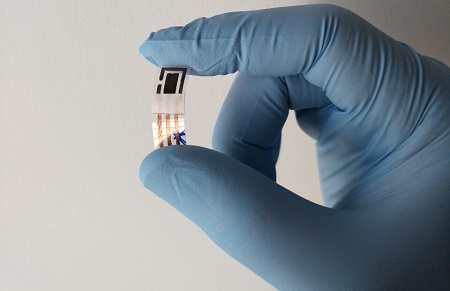 Flexible copper sensor made from conductive copper adhesive tape and other low-cost materials. Source: Anderson M. de Campos/University of Munich bismuth micro/nanodentrite-based electrodes obtained via electrodeposition. The device is connected to a potentiostat to determine the concentration of each metal by measuring differences in potential and current between electrodes. The result is displayed on a computer or smartphone using appropriate application software.
Tests with spiked artificial sweat samples demonstrated limits of detection and quantification of 5.36 μM and 17.9 μM for Cd2+ ions and 0.76 μM and 2.5 μM for Pb2+ ions, respectively. The flexible copper sensor described in Chemosensors can be mass produced at low cost and operated by non-specialists without training.