National nuclear power profiles for 2022
S. Himmelstein | February 03, 2023
The 2022 edition of Country Nuclear Power Profiles has been released by the UN International Atomic Energy Agency (IAEA). The annual report provides background information on the status and development of IAEA member states' nuclear power programs and contains historical information for 50 countries, including 30 with operating plants and 20 with past or planned programs.
States reporting new or updated information range from those with operational and expanding nuclear power programs to newcomers considering nuclear power, or countries in the construction phase, such as Bangladesh and Turkey, which are on the cusp of connecting their first nuclear power plants to the grid.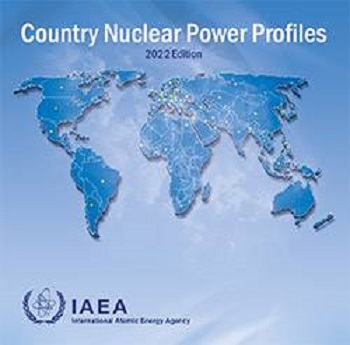 Source: IAEA Nations that have phased out nuclear power, such as Italy, or are considering bringing it back, like Lithuania, also feature in the report.
As of August 2022, 438 reactors with a net capacity of 393,333 MW are operational, and 57 reactors with net capacity of 58,858 MW are under construction.
The document highlights key trends, including the increase in the number of national commitments to the development of nuclear power infrastructure; increased collaboration among IAEA member countries, the agency and various other stakeholders; the importance of human resource development; and progress in research and development to bring onboard advanced reactor designs.