Fire alarm control cable streamlines cable installation
Engineering360 News Desk | January 10, 2023
The MC Glide Fire Alarm Control Cable is a flatter, smoother and more time-effective solution for cable installation, available under Atkore's AFC Cable Systems brand and the MC Glide Product Family. The MC Glide Fire Alarm works with the same tools, fittings and supports as traditional MC Cables, and is designed to reduce fatigue when pulling cable.
Its patented galvanized steel armor allows for a seamless glide through metal studs and ceilings, without sacrificing flexibility or strength. It may also be surface-mounted, fished, or embedded into plaster,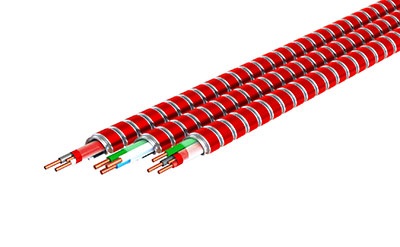 Source: Atkore providing a highly versatile, low-resistance approach to cable installation. Its minimal resistance equates to less cable hang-ups, decreasing the chance of knocking down studs and reducing stress on installers' backs. The MC Glide Fire Alarm offers the same compatibility as traditional MC Cables while continuing to meet all applicable U.S. Occupational and Safety Health Administration and U.S. Housing and Urban Development requirements.
The MC Glide Fire Alarm is a cable-tray-rated, plenum-rated powerhouse that is UL classified for 1-, 2-, and 3-hour through-penetration, to be installed in accordance with the NEC.