Video: Automating time-consuming water quality tests
S. Himmelstein | January 18, 2023
An autonomous monitoring solution has been developed to streamline the measurement of trace metal cations and anion applications for the water quality industry. The NARWHAL colorimetric from Custom Sensors & Technology uses established and regulated methods to individually determine copper, iron, silica, manganese, aluminum, calcium and other analytes of interest. The system offers an efficient alternative to costly, time-consuming laboratory methods such as titration, atomic absorption and inductive coupled plasma mass spectroscopy.
NARWHAL is designed to perform fully automated colorimetric measurements and deliver the product of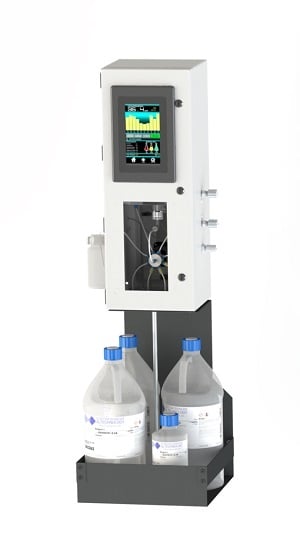 Source: Custom Sensors & Technology the chemical reaction to an analysis cell in a process setting. The system first retrieves a known volume of sample from a stream and mixes it with up to three reagents in succession. After each reagent addition, a mixing cycle is performed followed by a variable reaction delay.
Once the reagent addition process is complete, the final solution is transported to a measurement cell where the compound of interest can be determined via an absorbance measurement. NARWHAL is designed to be mounted near the pipeline containing the sample of interest, which is retrieved from the pipeline via a fast loop. NARWHAL also utilizes a grab sample chamber to make analyzing small sample volumes quick and easy.
System setup is simple, and the 7 inch intuitive touch screen allows for easy customization and data monitoring, including real-time indication of process conditions. With faster turnaround, higher testing volume, and increased precision and reproducibility, NARWHAL reduces human error and increases productivity in the lab.