OZ Lifting at HVACR Show
Engineering360 News Desk | December 07, 2022
OZ Lifting will show a variety of davit cranes at the International Air-Conditioning, Heating, Refrigeration (AHR) Expo, which takes place February 6 through February 8, 2023, at the Georgia World Congress Center, Atlanta.
The Winona, Minnesota-based company will showcase its full range of davits for the first time at an expo that attracts a delegation of heating, ventilation, air-conditioning and refrigeration (HVACR) professionals.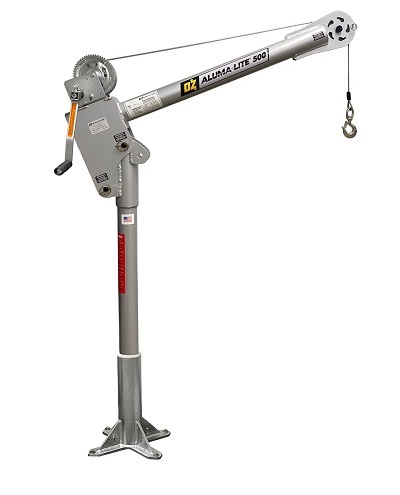 The new Aluma-Lite davit crane. Source: OZ LiftingThe centerpiece of the booth will be its new Aluma-Lite davit crane.
The ultra-portable davit is available in 500 lb and 1,000 lb capacities, each available with three bases: pedestal, socket (flush-mount) or wall-mount. The Aluma-Lite 500 weighs in at 24 lb with a maximum capacity of 500 lb. Aluma-Lite 1,000, meanwhile, weighs in at 47 lb with a maximum capacity of 1,000 lb.
Both fold flat for easy storage or transportation; are made of aerospace/military grade aluminum; and are available with manual winch (including drill drive adapter), AC or DC electric winches. Further, they boast a durable, powder coated finish; no tools are needed for assembly/disassembly.
The patented model allows users to leverage the benefits of other lifting technologies in its range, while telescoping the boom in and out under load. The CompOZite and CompOZite Elite carbon fiber models will also be of interest to HVACR professionals, as will the recently designed long reach davits.
Steve Napieralski, president at OZ Lifting, said: "As we sell through a distributor network, it isn't always easy to know about every application that our davits are involved with. However, we do recognize that our cranes get mounted on trucks and rooftops, where they lift chillers, filters, motors, and more. The properties of our new Aluma-Lite will be of interest, while our lever and chain hoists are perfect for a multitude of HVACR applications."
Attendees will also be able to see several stainless-steel products, designed for use in corrosive environments, including hoists, beam clamps, trolleys and a manual winch that boasts a drill-adaptor feature. Spark-resistant hoists and trolleys will be of interest too.
The AHR Expo is the essential event for HVACR professionals, attracting the most comprehensive gathering of the industry from around the globe each year. The show provides a unique forum where manufacturers and suppliers of all sizes and specialties come together to share ideas and showcase the future of HVACR technology.